Super September Round Up!
---
Another month done and dusted with the Summer season definitely coming to a close. We've seen the days get colder and events move indoors but still had plenty of fun along the way. In this monthly round up we're sharing some of our highlights from a super September...
A Sunny Start
It's safe to say our events team were thrilled when we kicked off September with a mini heatwave and had a full week of sunshine following a very wet summer. We definitely made the most of Fun Days, enjoying the last of the season for Rotherham County Council and the Organ family, as they celebrated the end of summer with a Family Day and 60th birthday celebration.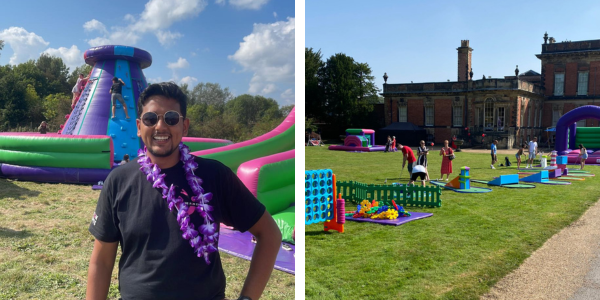 Back to School
Schools and colleges across the country welcomed their students back in style, hiring The Fun Experts to deliver some fun equipment to assure their new starters that they made the right choice and start off their year in the right way. We provided fun Inflatables, Interactive Games and Photo Booths to schools from Leeds to Macclesfield and had the honour of making staff and students smile as they headed back to school.
Having Fun at Work
September saw some great opportunities for businesses to build on workplace culture, in particular World Mental Health Day, as Capital One held a staff event that allowed their employees to let their hair down and see the benefits of having fun at work, hiring some of our Funfair Stalls for the day. We also had the pleasure of bringing some fun to the office for LB Group's staff social in Colchester that included Crazy Golf and the Roll a Ball Donkey Derby and The Pantry Catering's Funfair Event in their warehouse. 

Event Team Superstars
Our Fun Experts have had a great month of events this September and it's been clear what a great job they've been doing from some of the recent event photos and the amazing feedback that we've received. All of our Customer Sure Reviews are posted live straight onto our website and often highlight the professionalism of The Fun Experts who attend and how they helped to make the atmosphere at their events. This month in particular has been a great one for our Events Team as they've been very busy at Freshers Week events around the country. Great job guys!

Back to Infineum
Following an amazing event back in June celebrating the retirement of their CEO, Infineum approached us once again asking for our help planning a science themed Fun Day for staff and their families. There was a lot of work that went into planning this event, from designing bespoke science themed Stalls to DIYing elements of the entertainment and it was all worth it when everything came together amazingly and the team at Infineum were thrilled with everything we managed to pull off.

Freshers Week Fun
Arguably the most jam packed part of September is always Freshers, a couple of weeks at the start of term dedicated to Universities welcoming their new students, helping them to make friendships and settle into their new cities. Over the course of Freshers, our Fun Experts travelled all over from Liverpool and Manchester to Loughborough and London, providing all different types of entertainment such as Competitive Games and unique Inflatable Challenges to help break the ice and create natural conversation.

September has been a fun-filled month with so many memorable events and as we had into the Autumn Winter seasons we're already looking forward to all the festivities to come. Can't wait for our October round up? Make sure you're following us on Instagram, Facebook and LinkedIn to get updates on all of the fun in real time, as well as plenty of ideas and inspiration for your upcoming events.