Magic Mirror with Christmas Theming
Magic Mirror with Christmas Theming
Mirror, mirror, on the wall who is the most festive of them all? This Magic Mirror is of course! Situated in its own winter wonderland, the Magic Selfie Mirror is the perfect addition to any Christmas party that allows guests to capture Christmas memories while feeling as though they've been whisked off to the North Pole. 
If you're looking for a different way to capture your festive celebration other than the classic Photobooth option, then the Christmas Magic Selfie Mirror is just the thing! Like the original, this mirror will interact with your guests, talking to them as it instructs them on what to do, throwing in the odd cheeky remark as it does so. Our virtual backdrops then turn your surroundings into a winter wonderland with our snowy trees and prop reindeer theming adding to the festive ambience. Simply put on a Santa hat and strike a pose and your photos will be printed off for you to take away as a magical keepsake!
The magic of the Christmas Selfie Mirror comes not only from its unique design and technology, but also from the fact that it is customisable to your event and its size allows it to fit into venues where the Photobooth might not!
What events are the Magic Selfie Mirror Hire with Christmas theming suitable for?
Corporate Functions
Christmas Parties
Fundraising Events
Shopping Centre Promotions
Key Features of the Magic Selfie Mirror Hire:
Instant prints
Personalised message across all your images
Instant USB full of all your images at the end of the night
A fully trained 'Fun Expert'
Exceptional props stand beaming with groovy hats, glasses etc. 
No need to reflect on your decision - get the Magic Selfie Mirror to your event, by calling the Fun Experts now!
Equipment included with the Magic Selfie Mirror Hire:
Instant prints!
Personalised message across all your images
Picket Fencing
Winter Wonderland backdrop
Prop Reindeer and Snowman
Prop Christmas Trees
Instant USB full of all your images
A fully trained 'Fun Expert'
Exceptional prop box brimming with groovy hats, glasses etc. 
Equipment Size: 3.2m wide x 2.0m deep x 2.5m high
Operational Area Required: 2.5m wide x 3.0m deep x 2m high
Power: standard socket required (generator hire available)
Staff: trained assistant provided
Number Of Users: 5
Access Requirements: please note that a width of 0.82m is required when moving the equipment through doorways and corridors. If you feel that access may be an issue, such as stairways or lift access, uneven surfaces, obstructions or perhaps long distances then please mention this in your enquiry. The Magic Selfie Mirror does need to be set up in an inside area. Should you have any questions regarding this then please ask at the time of enquiry.
The Magic Selfie Mirror has a fantastic feature that allows this to be a more bespoke feature at your event:
Branded prints - the technology of the Magic Mirror allows us to upload a print design bespoke to your requirements.  So if you're exhibiting or promoting a new product or range then the Magic Selfie Mirror allows us to add your brand.
Speak to a Fun Expert today to discuss how you can benefit from these bespoke features for your event.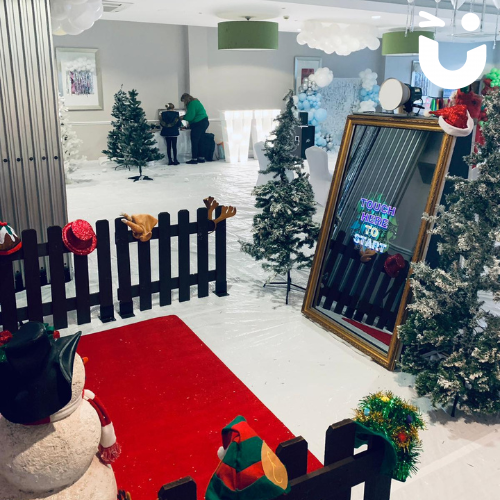 Magic Mirror with Christmas Theming has been added to your Event Quote.
Close
Call the Fun Experts to discuss your event: