2022: A Year Filled with Fun
---
They say time flies when you're having fun, so it's no surprise that 2022 has been and gone in a flash! After a challenging two years, events came back bigger and better than ever and we've had an absolute blast, so with that, it's time for a 2022 round up! 
---
A January Book Launch
In January we weren't quite ready to say goodbye to Christmas, so we kicked off the year by providing our Giant Snow Globe for Penguin Books for their winter themed book launch. The event held at two Waterstones locations in Liverpool and Sheffield saw Penguin Books promoting the thrilling new novel 'The Sanatorium' by Sarah Pearse by allowing passers-by to immerse themselves in a wintry forest just like the characters in Sarah's book! The two-day was the perfect way to get rid of January blues and set the tone for a new year full of events. 

Cash Grabbers on tour!
The first stop came about back in April, when Selfridge's hired our Cash Grabber for a number of Promotional events that took place in store at Charlotte Tilbury cosmetics counters over the following months. The Cash Grabber underwent a very pink, crystal maze inspired makeover to fit in with the company's distinct branding and did a fantastic job at providing fun to shoppers on its tour from London to Birmingham to Manchester. Following its' stint in Selfridge's stores the Cash Grabber has since embarked on another tour, now jet-setting across Europe and currently residing in the Netherlands! 

Jubilee Weekend Craziness
A huge event in 2022, not only for The Fun Experts but for the entire nation, was Her Majesty Queen Elizabeth II's Platinum Jubilee. Celebrating 70 years of our late Queen being on the throne, the country was eager to hold parties and events, particularly since it would be our first Public Holiday free from Covid restrictions! Despite thieves trying to stop the fun after a van full of equipment was stolen, we managed to pull together and deliver what we had left to our client and with beautiful weather and everyone still in high spirits we managed to have a successful weekend making people smile and laugh at events across the whole nation. 

Jim Judges!
Every year, Lancashire Business View's annual awards night, the Red Rose Awards, is a highlight for The Fun Experts and afters last year's win we were delighted to be sponsoring the event. We provided a load of awesome equipment that kept guests entertained from Funfair Games to loosen everyone up at the drink's reception and a Photobooth that allowed businesses to commemorate their wins with a keepsake during the official after party. While we didn't enter for any of our own awards, we were extremely excited to hear that our very own Director of Fun, Jim, would be judging one of the evening's awards!

The Fun Experts head overseas... 
One event in 2022 saw a few members of our Events Team receiving the luck of the Irish as they went across to Dublin for one of 15 events that we delivered over the summer for Avvio. This series of events were organised by Avvio on behalf of another company, with the idea in mind to invite employees and their families for some fun that would re-engage them and encourage working from the office. With different equipment at each event, we were pleased to be able to provide 15 unique experiences with a purpose to 26,000 guests and all done sustainably!

A special visitor
Back in July, The Fun Experts received a visit from our local MP, Katherine Fletcher, following the work she did to support us and other local businesses through the pandemic. Like many a morning with the Fun Experts, there was plenty of laughter to follow as Directors of Fun, Sunny and Jim, showed Katherine around our warehouse and had a conversation about introducing fun into workplaces the year we'd been having so far. As of right now, we're yet to see an Atari Pong in the House of Commons, but who knows what 2023 has in store!

Fun Days galore!
For the first time in three years, large gatherings of people were able to mix and it's safe to say our clients didn't mess around as Family Fun Days were back and bigger than ever! The likes of Leyland Trucks and Infineum held Fun Days with thousands of guests and as much equipment to entertain them all and we couldn't be happier to be invited!

An elephant in the room...
In November 2021, The Fun Experts donated a Popcorn Machine to some of Blackpool's hungriest residents... the zoo's large mammals! You might not have thought that elephants would love popcorn so much, but over a year later the machine has been used so much that it's in need of a little MOT which we were happy to help with. Before long, Fun Expert Adrian had the machine spick and span, ready for large mammal keeper, Lauren, to return to some very hungry, popcorn loving, elephants!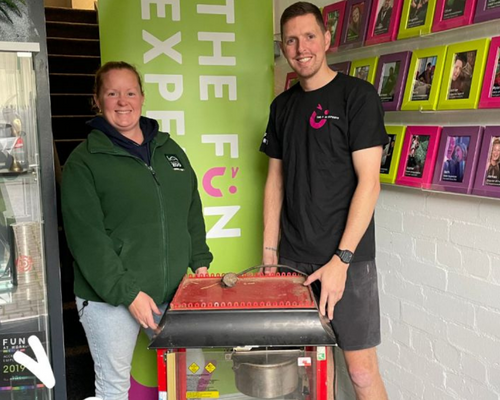 Closer to home
It's been an eventful year for everyone at the Fun Experts, not just those out on the road delivering events but for everyone in fun towers too! Over the course of 2022, we've gained not only 50+ Event Team members but also four members of staff in the office and warehouse. Aside from new staff, there's also been some vast improvements made in The Fun Experts warehouse with everything being palletised, new electric stackers and sack trucks and not to mention a shiny new floor! 

---
Looking back at the year we've had it's safe to say it's been a fun one and we're so grateful for you, our clients, our suppliers and every Fun Expert who has made this year so great. We already can't wait for all the fun to come in 2023, so let's make next year the best one yet and Get Booked in with The Fun Experts early giving you something to look forward to in the new year!