From an Idea to Fun...
|
20-12-2022
|
Posted By Mia Williams
---
At The Fun Experts we're always looking for new and innovative entertainment to provide to our clients and often, we take matters into our own hands! So if you've seen our full range of event equipment and you're wondering where the brains and the brawn behind all the fun comes from then you're in luck because with the arrival of a new piece of festive kit, we thought now would be the perfect time to let you in on the fun!
---
A grand idea...
For the last few years, our Christmas Side Stalls have ben a firm favourite at festive events across the country, so this Christmas, we gave our flippered friends a new lease of life by updating the Penguin Skittles Alley! Like most of our in house equipment designs, our very creative sales & development manager, Camille, began by envisioning how the final product would look and getting it down on paper ready to be sent off to a manufacturer who could bring our idea to life.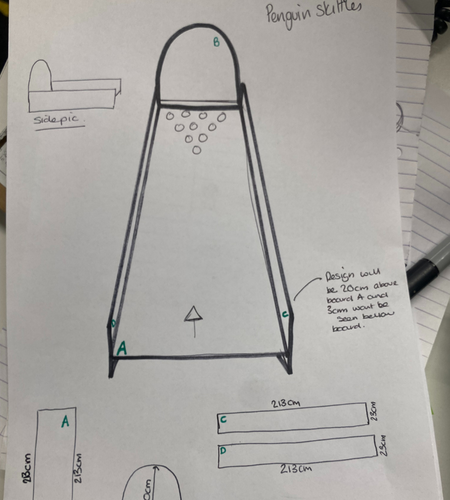 A little bit of DIY
While we awaited the finished product, everyone (particularly Camille!) was delighted to receive a miniature version of the alley which once assembled made us even more excited to see the real thing! At The Fun Experts, we're no strangers to a bit of DIY and it's always all hands on deck to get the job, so once our more Antarctic looking alley arrived, there was only thing left to do... paint some penguins! And it wasn't long before we had ourselves ten very bird-like wooden skittles all thanks to our warehouse staff!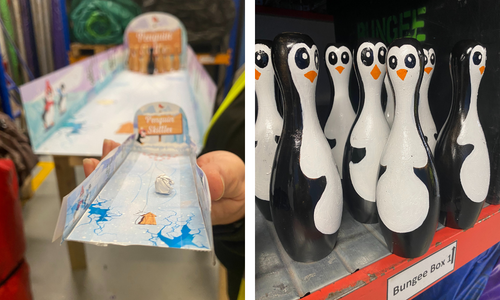 The Final Result
You'll have to wait and see! Our new and improved Penguin Skittles Side Stall is yet to be revealed so keep your eyes peeled here on our Product A-Z and our LinkedIn and Instagram pages for all the extra updates. There's much more fun to come in 2023 that you definitely won't want to miss!