Sumo Adult Costumes Hire
With a history spanning many centuries, many of the ancient traditions have been preserved in modern Sumo Wrestling, but there's no need to stand on ceremony with The Fun Experts.  We just love the fun aspect of this noble sport!  We'll provide you with 2 sets of suits, headgear, and neck braces, with a mat to compete upon and that's when things really get going.
This hugely enjoyable and very competitive challenge couldn't be more simple as two people put on their amusing Sumo Suits and then fight!  The first person to touch the floor with any part of their body other than the soles of their feet will be the defeated.  You will cry with laughter as you watch on in delight, seeing the two sumo wrestlers battle not only each other but the suit itself as they waddle around the ring.
As you take part in the fight you will need to wear your safety helmet, designed to look like the hairstyle all sumo wrestlers seem to share, and the neck brace that are provided.  The fight will only start once you are wearing the full costume. 
What events are the Sumo Adult Costumes Hire suitable for?
The competitive nature of the Sumo Adult Costumes lends itself to a myriad of events, and can be used for a structured team building event or just for laughs on a big Fun Day:
Fun Days
Team Building Events
Weddings
Birthday Parties
Bar & Bat Mitzvahs
Corporate Events
Fundraising Events
Key Features of the Sumo Adult Costumes Hire:
Two people can play at once
Safety mats are provided
Easy to run and referee yourself
Great when booked with the Sumo Inflatable Ring
So put on your suits and step into the ring with Sunshine Events - we guarantee that you won't be disappointed by this amazing game of skill, strength and strategy.
Equipment Included with Sumo Adult Costumes Hire
2 x Sumo Adult Costumes
2 x Safety Helmets
2 x Safety Neck Brace
Safety Mats
* all Safety clothing must be worn by participants.
---
Equipment Size: 3.5m wide x 3.5m deep
Operational Area Required: 5.5m wide x 5.5m deep
Staff: adult supervision required (staff hire available)
Number Of Users: 2
Recommended Age/Height of Users: 16 years and over
Speak to a Fun Expert today to discuss the bespoke upgrade options available from additional equipment, branding, prizes, props and theming. As we own all our own equipment we have the flexibility to adapt equipment to suit your requirements.
The highest compliment that I can pay to The Fun Experts and their excellent staff is that I have used them for my Fun Day for the past four years!
Barry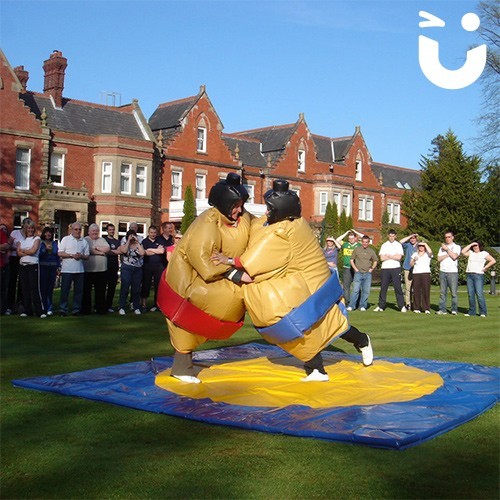 Sumo Adult Costumes Hire has been added to your Event Quote.
Close
Call the Fun Experts to discuss your event: