Shoot The Hoop Stall Hire
Shoot The Hoop Stall Hire
Shoot The Hoop is the latest addition to our ever growing range of basketball themed entertainment. With this new Fairground Side Stall, you can enjoy our popular Basketball Challenge in carnival form as you grab a miniature basketball and shoot for the hoops that are set against a colourful fairground themed back board.
Similar to the classic arcade game but set inside a red and white striped Funfair Side Stall that will catch eyes at any event, you can go head to head with your best friend or favourite family member and see who can score the most slam dunks with a super fun prize to be won for the Michael Jordan of your pair! 
What events is the Shoot The Hoop Stall Hire suitable for?
The Shoot The Hoop Stall works best at Fairground themed and Fun Day events as it helps to keep the theme consistent throughout your event but it's possible to theme any event to look like your very own Funfair!
Fun Days
Corporate Events
Promotional Events
University Events
Children's Parties
Weddings
Evening Functions
Shopping Centre Promotions
Key Features of the Frisbee Throw Stall Hire:
Brightly coloured fairground themed back board with mini basketball hoops
Four mini basketballs
50 novelty prizes included with every Side Stall
Can be run by a fun expert or you can do it yourself
Branding options available
Equipment included with Shoot The Hoop Stall Hire:
1 x Red & White Striped Stall
1 x Funfair Themed Back Board
6 x Rope Loops
4 x Basketballs
50 x Novelty Prizes
Equipment Size: 2.14m wide x 2.14m deep x 2.14m high
Operational Area Required: 3.14m wide x 3.14m deep x 2.14m high
Power: Standard socket (if lighting is required) (generator hire available)
Staff: 1 x Fun Expert required / Adult supervision required
Number Of Users: 2
Recommended Age/Height of Users: 5+
Access Requirements: Please note that a width of 0.82m is required when moving the equipment through doorways and corridors. If you feel that access may be an issue, such as stairways or lift access, uneven surfaces, obstructions or perhaps long distances then please mention this in your enquiry.
Not only are there some fantastic ways to upgrade you package with additional products as seen in 'You May Also Like' below, you can upgrade the hire of your stall with the following:
Bespoke Branding - the stalls are open to some fantastic branding options with front banner creating the perfect canvas. If you're wanting to promote your company brand or simply add something special to your hire, the branding of the front stall banner is the perfect option.
Additional Prizes - every stall comes with a complimentary 50 novelty prizes. Do you know the footfall for your event; have you got an extended guest list? Make sure your guests walk away with a prize and enquire about our additional Prize Packages.
When speaking to the Fun Experts today, don't shy away from asking how you can upgrade your package.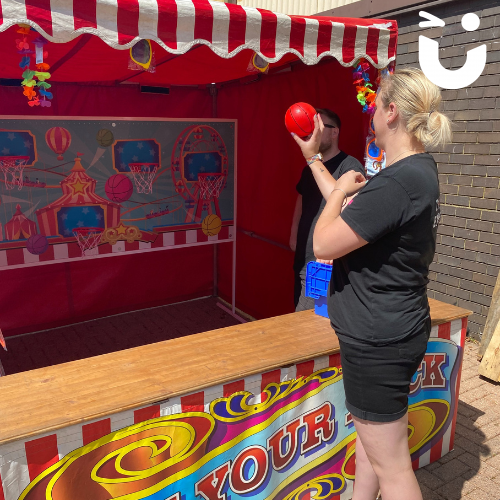 Shoot The Hoop Stall Hire has been added to your Event Quote.
Close
Call the Fun Experts to discuss your event: