Scramble Net Team Building
Scramble Net Team Building
As your guests bounce and bop their way through our Assault Course Hire, you'll want to give them one last dash of mayhem as people drop down to the floor and try to crawl through the nets to the end. Just like the Army obstacle courses, we can provide the Assault Course Scramble Net Hire to turn your event into a high pressure race - just make sure your race takes place on grass or you might have a few scraped elbows.
Once competitors have dashed through the fun to be had before, bouncing, jumping, sliding and diving their way through various obstacles, it will be nice for them to have a lie down on their fronts but without the rest. 
The Assault Course Scramble Net Hire can be used as an obstacle to add to your Assault Course, but there's no reason why it can't be used separately as an obstacle for all kinds of races during your Team Building event.  Think about it - how much harder would it be if racers had to get through the Scramble Net whilst balancing their egg on a spoon too!  
What events are the Assault Course Scramble Net Hire suitable for?
Sport events will definitely see the benefit of a taxing obstacle course, so make sure your Assault Course Hire ends with the Assault Course Scramble Net to really get their blood pumping!
Team Building
Fun Days
Promotional Events
Charity Events
Birthday Parties
Children's Parties
Weddings and Hen/Stag Parties
University Events
Sports Events
Key Features of the Assault Course Scramble Net Hire:
To be used on a grass surfaces only
Can be part of a bigger package or used solo
Three people can use at once
So scramble to your phone and call the Fun Experts today.  Your Team Building event deserves to be the best, so make sure you bring the best!
Equipment Included with Scramble Net Hire:
2 x Scramble Nets and pegs
---
Speak to a Fun Expert today to discuss the bespoke upgrade options available from additional equipment, branding, prizes, props and theming. As we own all our own equipment we have the flexibility to adapt equipment to suit your requirements.
The Fun Experts organised our company Team Building event. I will definitely be recommending them to other projects in our company.
Victoria Callow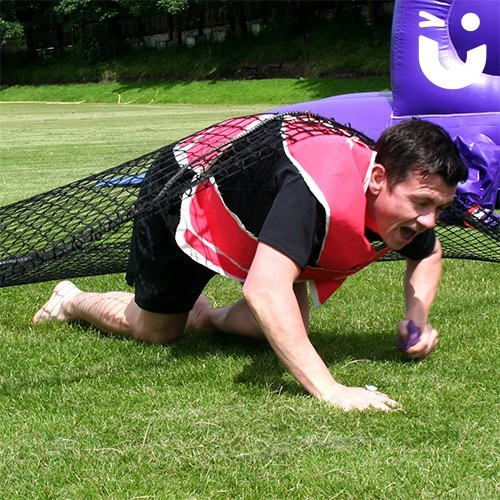 Scramble Net Team Building has been added to your Event Quote.
Close
Call the Fun Experts to discuss your event: