Christmas Peep Board
It's beginning to look a lot like Christmas! And it's time for you to take centre stage, or at least add your face to a festive scene with the Christmas Peep Board!
The perfect final touch to add some fun to your Christmas event, the festive themed peep board follows on from classic peep boards found at the fair.
Allowing three people to get involved at once, the Christmas Photo Peep Board Hire features a cheeky elf, santa's trusty reindeer and everyone's loveable snowman! 
Designed by the Fun Experts, you won't find this amazing Christmas Photo Peep Board anywhere else making it a unique attraction that your guests will want to take part in time and again, as they place themselves in all of the three head-holes, trying out every persona on the board. 
Painted onto a wooden board and held upright by sturdy metal feet, this peep board will be worth it's weight in gold as your guests keep coming back for another go.
What events are the Christmas Photo Peep Board Hire suitable for?
The Christmas Photo Peep Board Hire is perfect entertainment for all ages, as the head-holes are at a variety of heights suitable for adults and smaller children, making it great at all kinds of festive events:
Christmas Events 
Christmas Markets
Corporate Christmas Party
Festive Events
Key Features of the Christmas Photo Peep Board Hire:
Can be used by 3 people at once
Multi-level head-holes
No need to supervise the peep board
Put yourself in the picture by hiring the Christmas Photo Peep Board at your next Christmas event.
Equipment included with Christmas Photo Peep Board Hire:
1 x Photo Peep Board
2 x Metal Stands
Equipment Size: 1.9m wide x 1.0m deep x 1.9m high
Operational Area Required: 1.9m wide x 1.0m deep x 1.9m high
Speak to a Fun Expert today to discuss the bespoke upgrade options available from additional equipment, branding, prizes, props and theming. As we own all our own equipment we have the flexibility to adapt equipment to suit your requirements.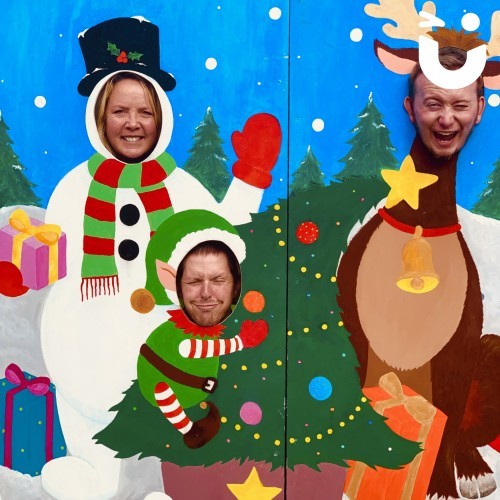 Christmas Peep Board has been added to your Event Quote.
Close