Team Building for Indoors
Team Building for Indoors
Beat the weather by bringing the fun indoors with our Indoor Team Building package, perfect for a sports hall or even in your offices!
Creating a team building package for an indoor space is second nature to us at Sunshine Events and we've made it easy for you with one great package fun!
Like the Outdoor Team Building Package, we have categorised our equipment into three types: Stations, Semi-Final and Final. Teams then rotate around the stations ensuring everyone gets involved.
The four highest scoring teams then enter the Semi-Final, with the top two teams going head to head in the Tug Of War Final to determine the overall winner.
All our team building packages include: 
Winner's Trophy
Winner's Podium
Team Bibs & Captain Hats
Bottle of Bubbly for the winning team
The below is an example of what each station, semi final and final could include, but when discussing your event with The Fun Experts, you may want to consider other equipment, which won't be a problem at all!
Stations
Batak
Ball in a Bucket
Build A Tower
Shuffle Pucks
Blindfolded Puzzle Cube
Rodeo Bull
Basketball Challenge
Quiz Boards
Indoor Putting Golf
Soft Archery
Semi Final
Final
The Indoor Team Building Package also includes:
Winner's Trophy
Winner's Podium
Team Bibs & Captain Hats
Bottle of Bubbly
Operational Area Required: flexible and we have indoor and outdoor options available
Power: standard socket required (generator hire available)
Staff: Fun Experts included to assist with supervising equipment
Upgrade options open to this package can include:
Compere / Host - your team building event can become a fully managed affair with our Specialist Event Hosts adding more buzz to the event
Additional Equipment - dependant on your guest list, you may require more stations or you may want to try different equipment for each station, semi final or final
The Fun Experts organised our company Team Building event. I will definitely be recommending them to other projects in our company.
Victoria Callow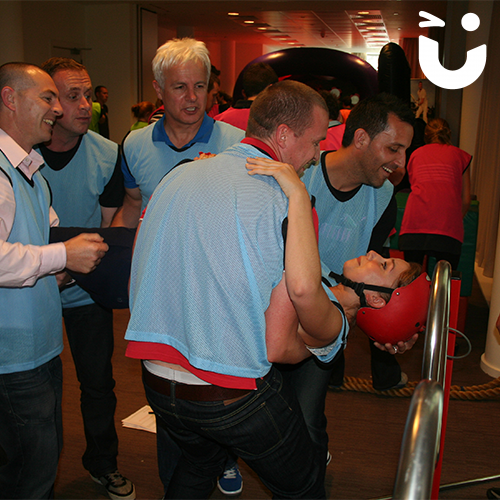 Team Building for Indoors has been added to your Event Quote.
Close
Call the Fun Experts to discuss your event: