Grab It Challenge
Allow us to introduce you to Grab It - a challenge that is sure to have you coming back for more and entice your competitive nature.
This addictive game allows two challengers to step up to the table and take on the challenge, which is simple yet highly competitive and completely fun.
Placing both hands in the areas shown on the table, triggers the game to begin. in the centre of the table are four transparent rods that stand upright and under each, a shining light. The game begins with the lights beginning to flash underneath and the challenge - when the lights stop, reach out and pick the one remaining lit rod! Who ever grabs it wins - simple, and as we mentioned, highly addictive!
What events are the Grab It Hire suitable for?
Promotional Events
Employee Engagement
University Events
Team Building
Exhibitions
Family Fun
Equipment included with Grab It Game Hire:
Grab It Challenge Table
Table skirt
4 Grab It Rods
Equipment Size: 1m wide x 0.6m deep x 1.05m high
Operational Area Required: 1.5m wide x 1.5m deep
Access Requirements: Please note that a width of approximately 0.7m is required when moving the equipment through doorways and corridors. If you feel that access may be an issue, such as stairways or lift access, uneven surfaces, obstructions or perhaps long distances then please mention this in your enquiry.
Speak to a Fun Expert today to discuss the bespoke upgrade options available from additional equipment, branding, prizes, props and theming. As we own all our own equipment we have the flexibility to adapt equipment to suit your requirements.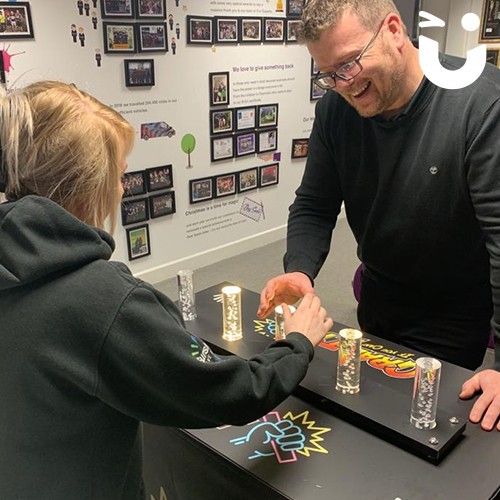 Grab It Challenge has been added to your Event Quote.
Close