Carnival Coin Roll
Remember cashing in your pounds or asking mum, dad or granny for a fiver and exchanging it for 2ps at the arcade. All for the fun of the Coin Roller, which has been given the Fun Expert twist and now available to hire for your events.
Guaranteed to engage your guests and bring out some competitive fun, the Coin Roller comes with a set of coins as players compete against one another. Taking turns, the players will roll the coins down the shoot, aiming for the highest scoring points.
Is there skill involved or is it just plain luck with the roll of a coin - we'll let you and your guests decide, but we can be sure that either way, it's one to entertain endlessly.
Part of a fantastic collection of games, the Coin Roller goes perfectly side by side with the likes of Bounce A Ball, Shuffle Pucks and more. Ideal for smaller spaces but without loosing impact at larger events, the Coin Roller game is fun for hire, for all ages!
What events are the Coin Roller Game Hire suitable for?
Promotional Events
Exhibitions
Employee Engagement
University Events
Corporate Events
Team Building
Family Fun
Equipment included with Coin Roller Game Hire:
Coin Roller Game and table
Complete set of coins for multiple players
Equipment Size: 0.6m wide x 1.8m deep x 1.2m high
Access Requirements: Please note that a width of approximately 0.7m is required when moving the equipment through doorways and corridors. If you feel that access may be an issue, such as stairways or lift access, uneven surfaces, obstructions or perhaps long distances then please mention this in your enquiry.
Speak to a Fun Expert today to discuss the bespoke upgrade options available from additional equipment, branding, prizes, props and theming. As we own all our own equipment we have the flexibility to adapt equipment to suit your requirements.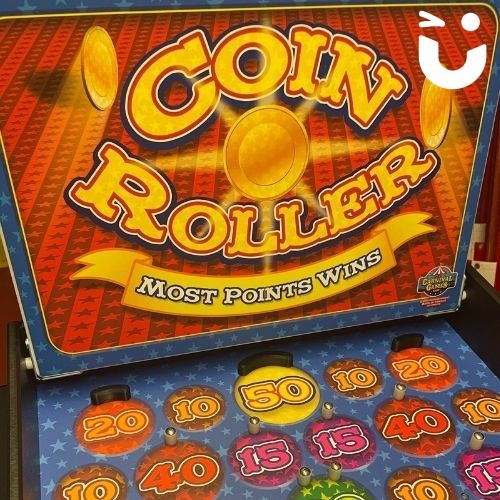 Carnival Coin Roll has been added to your Event Quote.
Close