A Series of Fun-Filled Events at Lancashire County Cricket Club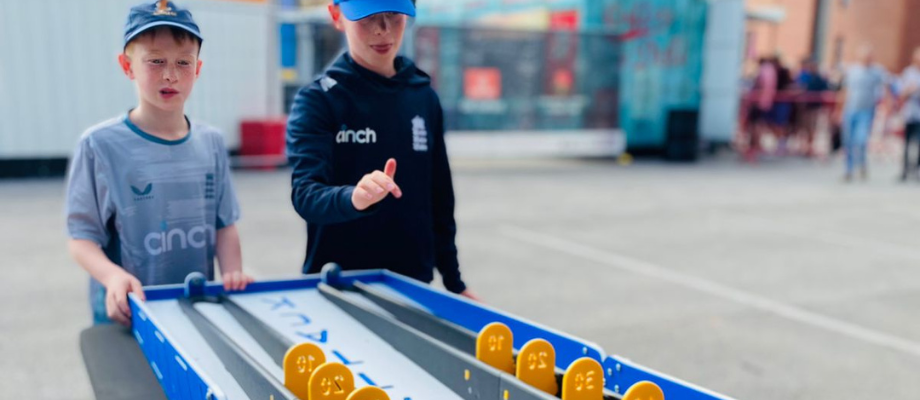 |
Posted By: Mia Williams
---
What Lancashire Cricket Club wanted...
With the arrival of the cricket test match season, Gaz Morris from Lancashire County Cricket Club got in touch with The Fun Experts looking for FUN solutions to his fixture dates across the last couple of months. These matches draw in bigger crowds than usual with a real mix of children and adults alike, so Gaz wanted a wide range of activities that would fill the fan village in front of the stadium and keep everyone attending entertained during the intervals in between play and we were quick to rise to the challenge!

How The Fun Experts Responded...
This series was no match for Fun Expert Camille, as she quickly got to work with the help of Gaz to create the perfect package that would keep its' novelty for the duration of the season and by looking at the broad demographic, large volume of guests and Gaz's budget, we managed to put together the appropriate range of fun. This included a range of competitive Interactive Games including the Maze Runner, Giant Jenga and Batak Challenge, brightly coloured Inflatables from Hungry Hippos to Climbing Walls and traditional Funfair Themed Side Stalls and Rides that would impress guests whilst being accommodating to those with accessible needs.

The Final Result
Since April, across various dates, a large number of our Events Staff have headed to Old Trafford to assist Lancashire County Cricket Club with entertaining their guests and each one with a mixture of equipment and hands on assistance from our team has ensured that the events have been an ongoing success. Halfway through the season, Gaz said 'I have been very impressed with what The Fun Experts have delivered so far, affirming that we were able to provide the service he was looking for, and we're so happy that we've been able to pull through and make these days great for everyone involved.

---
Here at The Fun Experts, our team are always accepting of any challenge, so if you have an event (or like Gaz, many events!) you need some help with, Contact The Fun Experts today and we'll be more than happy to get yours started.