Touring the UK with The Fun Experts
---
Since The Fun Experts was founded nearly 20 years ago, our ever expanding team has had the pleasure of travelling, up down and across the nation delivering fun to your events. In this blog, we're taking you on a road trip down memory lane around the UK, introducing you to some of the best venues we've brought fun to, as well as some of our favourite events in each place!
London
Despite being based in Preston, Lancashire we do travel far and wide and have provided entertainment for many London events. Recent trips to London with our Fun Experts have entailed events for the likes of Cazoo and Royal Holloway University. When our Cash Grabber headed out on its UK tour with Kesslers last year, it's starting destination was actually at the Charlotte Tilbury counter in of London's Selfridge's stores. Being the capital of England, London is home to a lot of amazing brands we've been lucky to work with including Nando's, Marks & Spencer's and Lego. Speaking to the team, one of their London highlights was climbing to the top of the O2 Arena to set up a Winter Wonderland scene for The Gadget Show's Christmas Special.

Manchester
Our closest big city and a very popular spot for events here in the North; we've delivered entertainment to some fantastic venues there including Victoria Warehouse, the Kimpton Clocktower and the Manchester Central Exhibition Centre. Manchester is a huge student city with the likes of the University of Manchester and Manchester Metropolitan being right in the centre and it's safe to say we've had some fun at our fair share of freshers weeks and other Student Events there. When you think of Manchester, for the football fans out there, I'm sure the first thing that springs to mind are two of the Premier League's biggest clubs, Man United and Man City, both of which we've had the pleasure of putting on some fun events for over the years. 

Birmingham
If you caught our Recent Case Study, you might have seen the relationship we have with the University of Birmingham and how we helped them to throw an end of year celebration for their students, which was the most recent of the many events we've provided fun for of theirs. One of Birmingham's most popular event venues and one that we've attended events at time and time again is the NEC, a huge exhibition centre which hosts thousands of businesses every year. We've hired out plenty of fun Interactive Games and Challenges to other companies promoting themselves at the NEC and every Exhibition we've attended there has been a fun one. 

Scotland
From Glasgow to Edinburgh to Aberdeen, Scotland is a country filled with amazing places that our team has been so lucky to visit. Events we've attended in Glasgow have been for the likes of Arnold Clarke, Three Mobile and House of Fraser while Edinburgh events have covered the University of Edinburgh, BrewDog and hotels such as The Scotsman. At the very top of Scotland sits Aberdeen and our team had a great time heading up there for a Student Event at the University of Aberdeen this March, in fact they had so much fun that we're going back in June and we can't wait!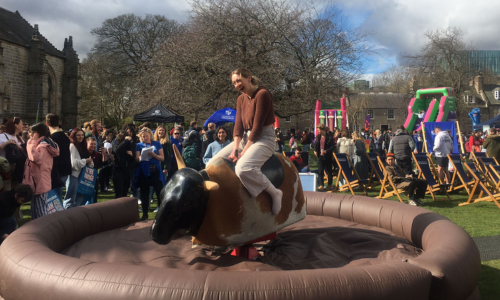 Dublin
Last year, our team headed overseas for the first time as Fun Experts to attend one of 15 fantastic events with Avvio. Avvio are a leading employee experience agency and with the help of The Fun Experts, managed to pull off a Family Fun Day in each of their clients' main sites across the UK, one of which was in Dublin, Ireland. This was the first time that our team have travelled over the water in vans filled with fun and we hope it won't be the last; we might not be a world wide company as of now, but who knows what the future could hold!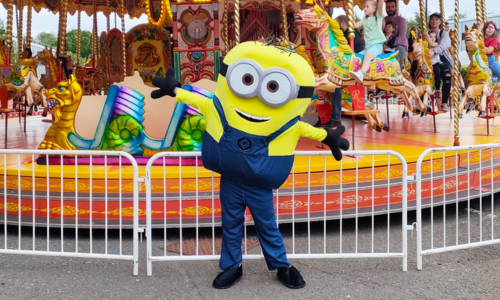 If you haven't booked with The Fun Experts before, you might be surprised to hear that we're a North West based company that travels nation wide, we don't just do the big cities either, we cover every single area of the UK! So even if you're at the bottom or top of the country, don't let that put you off from Enquiring because we always do our best to accommodate to all of our clients no matter where their event is being held. With that being said, we hope that we'll be hitting the road and seeing you at your events soon!