The Lifecycle of an Inflatable
---
By now, you're probably used to seeing the huge range of Inflatables that The Fun Experts have on offer, but you might be wondering what happens when all the fun is done. With the protection of the environment becoming a more prominent issue and a lot of our clients asking how we can make their events eco-friendly; we've found a way to give our old Inflatables a new lease of life. So now, may I present to you the lifecycle of The Fun Experts Inflatables!
---
Where do our Inflatables come from?
Our range of Inflatables are all designed in house at here at The Fun Experts in our signature colours, so you'll always know they're ours! Each unit is made in the UK using vinyl and materials that come from here too, meaning they're of high quality and are built to last, passing our annual RPII testing time after time. 

How are our Inflatables used?
Once we receive our Inflatables, they're stored in our warehouse waiting to be driven to your events and it's safe to say each of them get their fair share of fun while they're here at The Fun Experts! There's an Inflatable for everyone and they're some of our most popular equipment due to their versatility and ability to be enjoyed by adults and children alike. 
Some of the Inflatables we have on offer for different events include Bouncy Castles and Slides for Family Fun Days, more competitive challenge games like the Wipeout and Hungry Hippos, Assault Courses that are perfect for Team Building Days and even come Christmas time, some of our classics receive festive makeovers. And that's only some of what we have to offer, you can view the whole range Here!

What happens when we're done with our Inflatables?
You know what they say, "All good things must come to an end." and sadly while we'd love to have our Inflatables forever, to keep all of our equipment looking fresh and new, they need to be replaced after a while. But don't worry, we've discovered a way to give them a new lease of life... From now on, once our Inflatables have had their fair share of fun, they'll be shipped off to UK based sustainable brand, Wyatt & Jack, whose business mission is to turn people's used Inflatables into fashionable bags. So, who knows? Buy yourself a new tote and it could be made from one of our Assault Courses!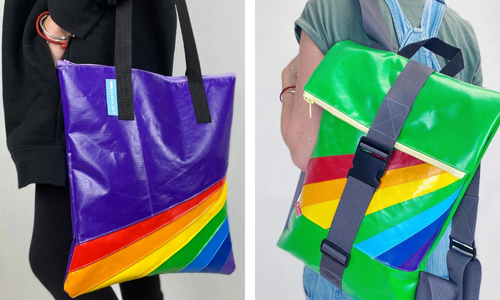 ---
With a new year on its way, there's so many opportunities for fun-filled events, so why not get booked in early and give yourself some Inflatable fun to look forward to! Contact our Fun Experts today and get the party started!