New Equipment Is In The Building!!
---
It's always an exciting time when The Fun Experts receive even more fun to start delivering to you across the nation, so may we present to you... a total of six brand new pieces of equipment! A selection of engaging and exciting Interactive Games are available for a variety of events, making the perfect crowd pleaser for your exhibition stand or addition to the office that'll leave employees feeling motivated and energised when in the workplace. It's entirely up to you how you make use of our new equipment, but what we're sure of is that it'll certainly be a whole lot of fun!
A giant version of the classic game! Try your luck at dropping the coloured disks from the top and cross your fingers as they tumble between pegs before landing in a numbered slot. Go against your colleagues and see who can make the highest score as you debate whether becoming Plinko champion is purely luck or requires real skill and strategy. 

This game will have cogs turning as you twist the keys hoping to find the four that will unleash the golden nugget, but no Fun Experts challenge is that easy, so keep an eye out for your fellow miners and TNT that could be blocking the way to victory. If you're looking for a game that will give you a break from the desk but keep brains focused and switched on from 9-5 then Mineshaft Madness is definitely the one for you. It truly is a gold mine of fun!

Do you have the magic touch? Well see for yourself and try out Whip N Skip! Give one of the pucks a push and send them gliding up the ramp and into one of the targets. Sound easy? Be warned, push too lightly and you won't make it round the bend but too harshly and you'll miss the target completely!
It's an uphill battle as you go against your opponents, rolling the ball up the ramp and knocking down the flaps to try and get the highest score of your cohort. It takes a real champ to make it to the top without dropping off the end and sending your score back to zero! With it's bright colours and eye-catching design, Flap Attack will have crowds flocking to your event stand for a turn.

Like most of these games, Ricochet will get colleagues out of their desk chairs and ready for some fun, however the precision needed as you get three tries to launch the yellow balls, watching them ricochet off the bungee cords and land in the holes on the other side makes for focused and refreshed staff when it's time to head back to your tasks. Will third time be the charm?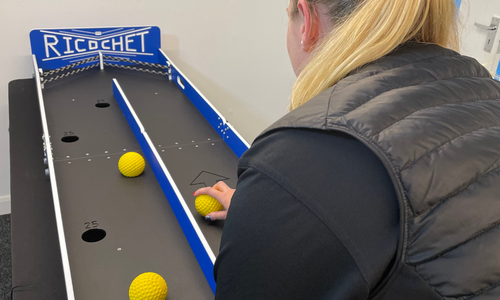 Spin the wheel and experience a labyrinth of fun as you take part in the Maze Runner challenge! You might recognise the popular challenge game as you rotate the maze guiding the ball through its walls and now it comes to life on a larger scale so that you can bring some competition to your office or exhibition stand.
So what are you waiting for? Why wouldn't you want to stand out from the crowd at your next exhibition or introduce camaraderie and competition to the workplace? Be one of the first to try out The Fun Experts brand new equipment and Get In Touch With The Team Today to have some fun!