Back To School with The Fun Experts!
---
I know what you're thinking... "We've only just finished for the summer!"... and some of you haven't even broken up yet! But we can't deny that there's no time like the present to get ahead of the game and put the dates in the timetable for next year's events. The Fun Experts are here to inspire your class of 2024 calendar and ensure your freshers week, open days and all number of student events are a guaranteed success. 
Breaking the ice...
Starting at a new university or school can be a very daunting experience, so naturally you'll want the whole cohort to feel comfortable in their new environment. Our range of challenge games, from eye-catching, colourful Inflatables such as the popular Wrecking Ball and Hungry Hippos to Interactive Equipment like Gold Cup Horse Racing to the brand new Dance Machine will do just the job. The quirky pieces of kit are a great way to break the ice between students, as they provide opportunities to create relaxed conversations, build new bonds and let out their competitive sides!
Adding the Wow Factor...
If there's one thing that The Fun Experts can do, it's add something special to an event that will really impress your guests... which is just what you need when holding an Open Day for parents and students at your university, school or college. At an event like this, where you're indirectly competing with others to be everyone's firm choice, it's the little details that can make all the difference. Having some of our unique and of course fun ways of making people feel welcome, whether you're handing out freshly made Popcorn or Candyfloss from one of our traditional carts on arrival or offering fun prizes to be won in our Cash Grabbers or Prize Cranes are key.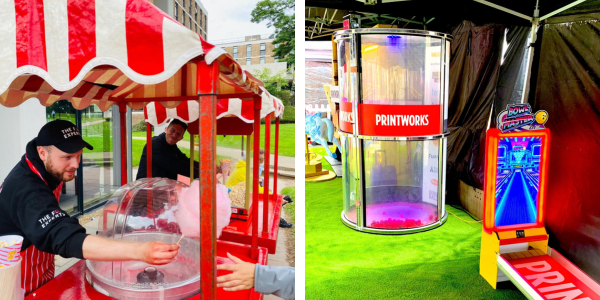 Building the team...
It can be difficult to keep students engaged each term and keep them feeling excited for the socials and events you have to offer, but not when The Fun Experts are involved! Whether you're in charge of organising your annual sports day or planning a get together for your student society, a Team Building Day is always a fun one. Designed not just for corporate companies but for groups of all ages, these days are organised and ran by The Fun Experts, who will provide you with all the action from team challenges such as School Sports Day Races, various Inflatables and our Mega Assault Course, along with multi coloured team bibs and a winners podium. All your students will need to bring is their game faces and their loudest cheers for their teammates!

We understand that organising student events is a big task, especially when looking at the yearly calendar and we want to make the experience as stress free and easy as possible. You can trust The Fun Experts to make every experience a great one for the organiser and all of your guests right from the first phone call until we pack down your event.  View the full Range of University & School Entertainment and don't hesitate to Contact The Fun Experts about your upcoming event, roll on Freshers Week!