Arcade Machine (Table Top) Hire
Arcade Machine (Table Top) Hire
Our collection of retro Arcade Machines are perfect entertainment for you and your event guests. Featuring classic gaming experiences from Ms. Pac-Man to Street Fighter, Space Invaders to Pong, Frogger and so many more, there are hours of endless fun to be had.
Our Table Top variant of the classic Arcade Machines ensure that guests have fun right at their finger tips. Whether working with a smaller space to entertain, or if you want some fun to be added to the sitting areas of your event, these machines are perfect for you.
Allowing both single player and multiplayer options, guests take control using the classic joystick and button controls, loosing themselves in the nostalgic 80's graphics of gameplay. The machines themselves, featuring a modern high quality display, are adorned with retro graphics, bringing back fond memories of the arcade experiences of yesteryear. 
What events is the Arcade Machine (Table Top) Hire suitable for?
Whether you spent hours at the local arcade as a kid or fancy yourself a modern day gamer, the Arcade Machine is a favourite for all. Inviting fun competition for families, friends and colleagues, with it's endless selection of classic arcade games, it's the perfect choice for your event and available to hire for:
Employee Engagement
Corporate Events
Exhibitions
Promotional Events
Shopping Centre Promotions
Key Features of the Arcade Machine (Table Top) Hire:
The 'Table Top' variant allows for the fun to take place in a tighter space
100's of classic Arcade games at your finger tips
Endless, nostalgic fun for guests
1 player and 2 player games available
 If you like the look of our table top variants of the classic arcade gaming experiences, then be sure to look at our full size Arcade Machines right here.
Access Requirements: please note that a width of approximately 0.82m is required when moving the equipment through doorways and corridors. If you feel that access may be an issue, such as stairways or lift access, uneven surfaces, obstructions or perhaps long distances then please mention this in your enquiry.
Speak to a Fun Expert today to discuss the bespoke upgrade options available from additional equipment, branding, prizes, props and theming. As we own all our own equipment we have the flexibility to adapt equipment to suit your requirements.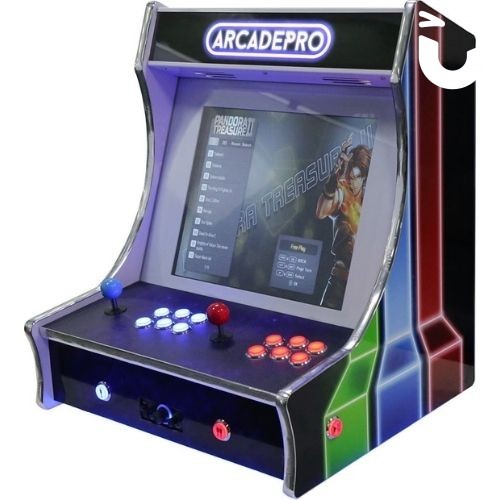 Arcade Machine (Table Top) Hire has been added to your Event Quote.
Close