Trail Maze Runner Challenge
Trail Maze Runner Challenge
Similar to our other Maze Runner challenges, this game of hand and eye coordination combined with the pressure of a ticking timer is a whole labyrinth of fun...
The aim of the game is as usual, navigating the ball by turning the wheel all the way to the finish line, sounds easy right? In our new addition of the Maze Runner, the popular challenge takes a more adventurous turn as you find yourself following the trail all the way to the peak, watching out for dead ends and other obstacles that might be blocking your way to the top. 
Our Trail Maze Runner game is a perfect addition to any office when wanting to add a bit of friendly competition between colleagues or stand out from the crowd at your exhibition stand. This new piece of equipment is sure to catch eyes with its bright colours and innovative design.
Available to hire now for a variety of events, the maze runner challenge, a large scale take on the classic design, will definitely become a crowd favourite.
What events are the Trail Maze Runner Hire suitable for?
Promotional Events
Exhibitions
Office entertainment
Employee Engagement
Product Launches
Fun At Work
Team Building
Equipment included with Maze Runner Hire:
Maze Runner challenge
Balls
Equipment Size: 1.0m wide x 1.2m deep x 1.8m high
Operational Area Required: 1.2m wide x 1.8m deep x 2.0m high
Power: 9v Battery
Staff: 1x Fun Expert required for set up
Number Of Users: 1
Recommended Age/Height of Users: 5+
Access Requirements: Please note that a width of approximately 0.7m is required when moving the equipment through doorways and corridors. If you feel that access may be an issue, such as stairways or lift access, uneven surfaces, obstructions or perhaps long distances then please mention this in your enquiry.
Speak to a Fun Expert today to discuss the bespoke upgrade options available from additional equipment, branding, prizes, props and theming. As we own all our own equipment we have the flexibility to adapt equipment to suit your requirements.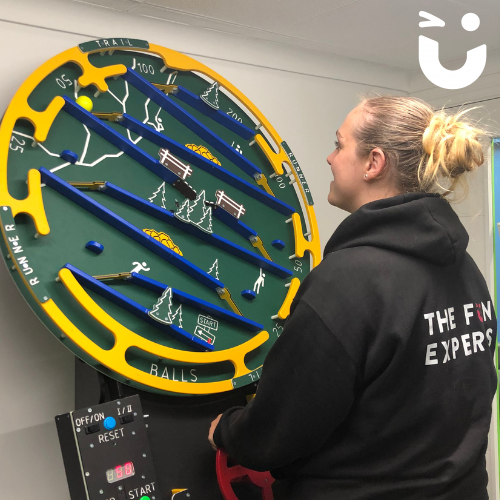 Trail Maze Runner Challenge has been added to your Event Quote.
Close
Call the Fun Experts to discuss your event: