Shuffle Pucks Game
Adding a 'Fun Expert' event twist to classic arcade and funfair games is one of the things we do best, bringing those fondly remembered arcade classics to your events.
With the Shuffle Pucks Game, we deliver yet again. This table top take on curling is a highly addictive game, sure to bring out the engaging, competitive side of you and your guests.
Featuring alongside other classic games such as Coin Roller, there are a fantastic selection of table top games that deliver the fun, deliver the impact and importantly, deliver the Fun - did we say that already, it was worth mentioning twice!
With 4 pucks each, a red player and blue player compete to get their pucks closest to the high scoring centre - the question is, will you go straight for the points or strategically knock your oppositions pucks out of play, or nudge yours ever nearer.
What events are the Shuffle Pucks Game Hire suitable for?
Promotional Events
Exhibitions
Employee Engagement
University Events
Corporate Events
Team Building
Family Fun
Equipment included with Shuffle Pucks Game Hire:
Shuffle Pucks Game and table
Complete set of four pucks for each player - red and blue
Equipment Size: 0.6m wide x 1.8m deep x 1.2m high
Access Requirements: Please note that a width of approximately 0.7m is required when moving the equipment through doorways and corridors. If you feel that access may be an issue, such as stairways or lift access, uneven surfaces, obstructions or perhaps long distances then please mention this in your enquiry.
Speak to a Fun Expert today to discuss the bespoke upgrade options available from additional equipment, branding, prizes, props and theming. As we own all our own equipment we have the flexibility to adapt equipment to suit your requirements.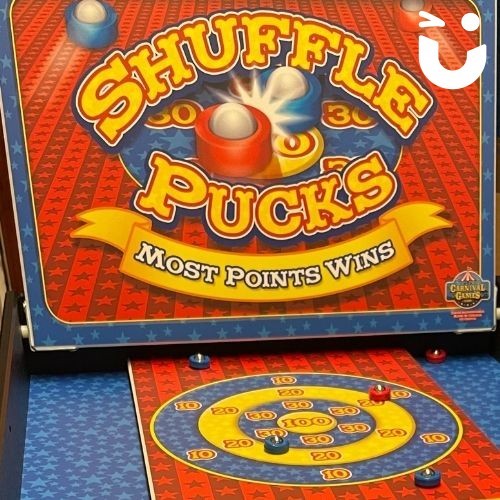 Shuffle Pucks Game has been added to your Event Quote.
Close