Inflatable Football Darts Hire
Inflatable Football Darts Hire
Ok, we know what you're probably thinking; Darts... Inflatable... but don't panic, as the Fun Experts bring you a fun spin on the classic game with our Inflatable Football Darts. Standing at an impressive 11 foot high, our Inflatable Football Darts - with its traditional dart board appearance - is sure to grab the attention of your guests.  Using velcro footballs, guests take a step back from the board and aim for the bullseye when kicking the ball at the target.
Suitable for children competing against adults, there are a whole host of games that you could play on this huge inflatable, such at 501, Round The Clock or simply just hit the Bullseye! Or perhaps you'll just want to play on your own, perfecting your football aim skills.
Bringing the Inflatable Football Darts Hire to your event is surefire way to add a healthy dose of fun to your event, as spectators will gain just as much enjoyment from this game as those playing it. All you'll need to do is step back, line up your shot and take a huge kick into a fun event!
What events are the Inflatable Football Darts Hire suitable for?
The competitive nature of the Inflatable Football Darts Hire makes it a great addition to all kinds of great events, from big family fun days to Team Building events
Fun Days
Team Building
University Events
Bar Mitzvahs / Bat Mitzvahs
Promotional Events
Charity Events
Weddings
Shopping Centre Promotions
Sports Events
Birthday Parties
Key Features of the Inflatable Football Darts Hire:
3 balls provided
Can be set up indoors or outdoors
No need to provide supervision
Don't let your event veer off target: hire the Inflatable Football Darts Hire and you'll soon find that your event is the one that everyone is talking about for years to come.
Equipment Included with Inflatable Football Darts Hire:
1 x Inflatable Football Darts
3 x Footballs
Power Leads
1 x Fan to Inflate (Power Required)
---
Equipment Size: 5.14m wide x 2.26m deep x 4.50m high
Operational Area Required: 6.14m wide x 4.5m deep x 5m high
Power: standard socket required (generator hire available 6.5kva)
Staff: adult supervision required (staff hire available)
Access Requirements: please note that a width of approximately 0.82m is required when moving the equipment through doorways and corridors. If you feel that access may be an issue, such as stairways or lift access, uneven surfaces, obstructions or perhaps long distances then please mention this in your enquiry.
Speak to a Fun Expert today to discuss the bespoke upgrade options available from additional equipment, branding, prizes, props and theming. As we own all our own equipment we have the flexibility to adapt equipment to suit your requirements.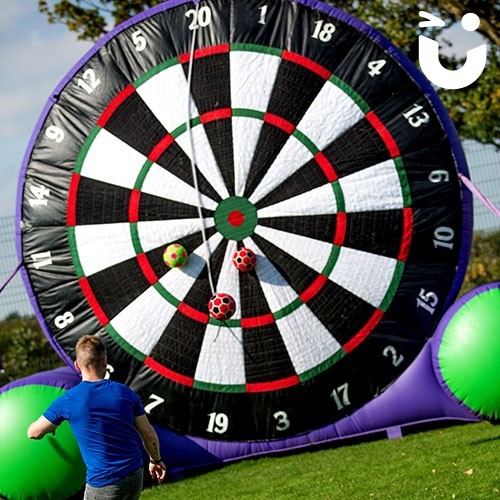 Inflatable Football Darts Hire has been added to your Event Quote.
Close