Human Buzz Wire Hire
Much like our table-top Buzz Wire games, the Human Buzz Wire requires you to move your metallic wand from one end of the wire to the other without touching the two together and making that dreaded buzzing noise ring out. The difference here, of course, is how you hold the wand!
The Human Buzz Wire Hire includes a special helmet that has a circular ring on the top that is threaded around the buzz wire.  You'll need a willing volunteer to strap on the helmet, turning themselves into a giant human wand! It's then up to the team to lift the human wand and move them along the wire, ever so carefully, ensuring the two metal contacts don't touch. It's a hugely fun twist on this popular game that will have you and those around you in absolute stitches!
Of course, if you just fancy using the Human Buzz Wire Hire in the normal way, we can supply a hand-held wand, which is just as much fun for one player. And the other great thing about the Human Buzz Wire Hire is that it's battery powered for it can be used indoors, or outdoors where there's no power available!
What events are the Human Buzz Wire Hire suitable for?
Using the human wand on the Human Buzz Wire Hire makes it perfect for Team Building events where teams have to work together in order to beat the buzzer.
Team Building
Fun Days
University Events
Sports Events
Promotional Events
Birthday Parties
Bar & Bat Mitzvahs
Exhibitions
Corporate Events
Charity Events
Key Features of the Human Buzz Wire Hire:
Helmet wand and hand-held wand provided
Battery powered
Can be collected from our Preston depot
Hiring the Human Buzz Wire at your event will ensure that all involved have an electrifying time, so pick up the blower and call the Fun Experts today!
Equipment Included with Human Buzzwire Hire:
1 x Human Buzz Wire
1 x Helmet for Human Wand
1 x Handheld Wand
Power Lead 
Equipment Size: 3.50m wide x 1.00m deep x 1.00m high
Operational Area Required: 4.50m wide x 2.00m deep
Power: standard socket (generator hire available)
Staff: adult supervision required (fun expert available)
Access Requirements: please note that a width of 0.82m is required when moving the equipment through doorways and corridors. If you feel that access may be an issue, such as stairways or lift access, uneven surfaces, obstructions or perhaps long distances then please mention this in your enquiry.
Speak to a Fun Expert today to discuss the bespoke upgrade options available from additional equipment, branding, prizes, props and theming. As we own all our own equipment we have the flexibility to adapt equipment to suit your requirements.
The Fun Experts organised our company Team Building event. I will definitely be recommending them to other projects in our company.
Victoria Callow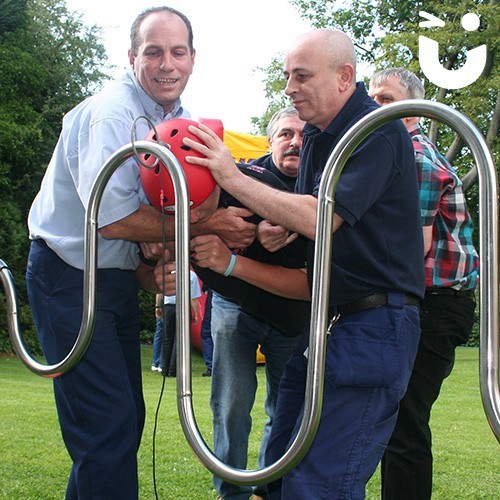 Human Buzz Wire Hire has been added to your Event Quote.
Close
Call the Fun Experts to discuss your event: