Face Painting for Adults
It's not just the kids who want to get involved and have their faces painted - it's also the big kids.  Ok, when we say big kids, we mean the adults who want to relive their youth and give themselves a make-over worthy of a selfie or two.
The only limit on the types of faces these Face Painters can create is your imagination! Perhaps you want to become a blue-skinned alien from Avatar or beautiful fairy princess full of glitter and sparkles. If a full-face design is a bit much for you, how about a simple cheek design, such as a tribal tattoo or sports flag or delicate butterfly?
The highly-skilled Face Painters are always up-to-date with their products, so only the safest of products are used to ensure the minimum chance of allergens. Everything is cleaned between faces, so no risk of cross contamination.  It's this professionalism that sets our Face Painters apart from the crowd. The team also hold full public liability insurance. All you will need to provide is a covered space for the Face Painters to work in.
What events are the Face Painters for Adults suitable for?
The fun nature of a painted face make the Face Painters for Adults the best way to inject a bit of fun into any event that needs something extra special.
Fun Days
Birthday Parties
Promotional Events
Charity Events
Weddings and Hen/Stag Parties
University Events
Evening & Corporate Events
Key Features of the Face Painters for Adults:
Allergy-free materials
Full face or cheek designs available
Full public liability insurance
Creative and approachable face painters
Bring the The Fun Experts Face Painters to your event and turn all those faces into a sea of colour - everyone will want to get involved!
All our Face Painters are completely self contained including :
Table and Cloth
Face Paints
Brushes and Sponges
Seating
---
Speak to a Fun Expert today to discuss the bespoke upgrade options available from additional equipment, branding, prizes, props and theming. As we own all our own equipment we have the flexibility to adapt equipment to suit your requirements.
We were all amazed with the Face Painters skills and a lot of the adults had a giggle going to get adorned with pretty patterns and sparkles!
Kimberley
Everyone was over the moon with Minnie's face-painting which is some of the best I've every seen.
Clare Shallcross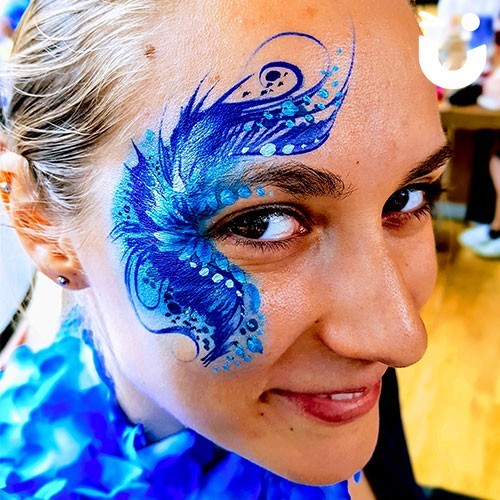 Face Painting for Adults has been added to your Event Quote.
Close
Call the Fun Experts to discuss your event: