DON'T TELL THE BRIDE GETS A TOUCH OF SUNSHINE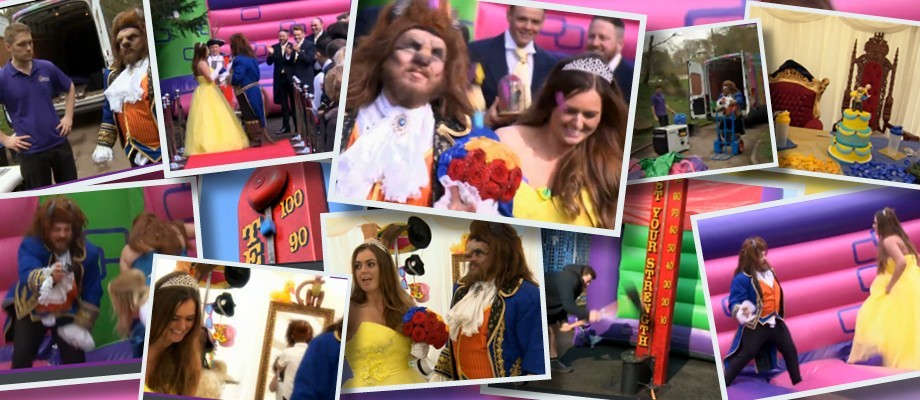 ---
Production Company Renegade Pictures contacted The Fun Experts initially to source a large Bouncy Castle for an episode of Don't Tell The Bride, but ended up with a bespoke package of exciting fun equipment to enhance their big day!
The Brief
The popular entertainment show followed bodybuilder Yiannis (known to his friends as The Beast) from Lytham St Annes, as he made secret wedding plans for his future wife Yasmin (known as Beauty). 
His dream was to give his new bride the fairy tale wedding she had always dreamed of by creating for her a Beauty and the Beast experience, in order to play out their love story as the two central Disney-style characters of the traditional story.

Our Response
The Fun Experts invited the show's production team, along with the Groom and his Best Man, to visit Fun Towers to try out the Bouncy Castle and to have a look at other equipment which would enhance the fun on the big day. 
The body-building Groom loved the Test of Strength traditional fun fair game and the Tug of War Rope - plus the Magic Selfie Mirror was chosen to highlight The Beast's transformation back into a Prince, once Beauty had fallen in love with him.

The Results
The beautiful landscape of Williamson Park in Lancaster was chosen by the groom so that he could create his take on the original story's magical woodland setting, with lots of space for The Fun Experts to erect the large Bouncy Castle and other fun equipment.
Initially, Yasmin was horrified by her bright yellow wedding dress and feared that the wedding will be a disaster, but once she arrived at the venue and had walked down her very own Red Carpet - her tears soon turned to smiles when she saw her larger-than-life Groom, all dressed up as The Beast, in front of their very own colourful royal castle!
After the ceremony, the couple were the first to enjoy their Bouncy Castle experience, as the guests tried out the traditional Tug of War and Test of Strength fairground games.
Once inside the marquee, also set up in the grounds, the transformed Prince and his new Princess sat down for their wedding feast on their very own Elaborate Wooden Thrones. The newlyweds and their guests also had many fantastic memories to take away from the day, courtesy of a Magic Selfie Mirror.
EQUIPMENT
Bouncy Castle (Event) Hire
Magic Selfie Mirror Hire
Test of Strength Hire
Elaborate Wooden Thrones Hire
Tug Of War Hire
Red Carpet (8m) & Stanchions Hire
Generator Hire
This episode of Don't Tell the Bride was first aired on E4 on 4th October 2017.
Need some ideas for your wedding?
If you need inspiration to make your wedding really special, visit our Wedding Entertainment ideas page or speak to one of our Fun Experts, who can create a unique package for you and your guests to enjoy. Give us a call today on 0800 088 5288 or email us at info@sunshineevents.co.uk