Bowl O'Rama
Bowling receives the table top treatment in this fun and - believe it or not - challenging game.
The rules of the game remain the same as players compete to knock down the wooden pins with the bowl, but will you get a strike or simply strike out.
Taking this beloved game and giving it the fun table top spin allows you to bring more fun to your event. If you're looking to entertain in a smaller space, perhaps stand out from the crowd at an exhibition or introduce some fun at work, then the Bowl o'Rama is the perfect choice for you. Even better still when hire with our collection of other table top games that include Carnival Coin Roll, Shuffle Pucks, Bounce A Ball and more.
What events are the Coin Roller Game Hire suitable for?
Promotional Events
Exhibitions
Employee Engagement
University Events
Corporate Events
Team Building
Family Fun
Equipment included with Bowl O'Rama Hire:
Bowl O'Rama Game and table
Complete set of wooden bowling skittles
Bowling bowls for multiple players
Access Requirements: Please note that a width of approximately 0.7m is required when moving the equipment through doorways and corridors. If you feel that access may be an issue, such as stairways or lift access, uneven surfaces, obstructions or perhaps long distances then please mention this in your enquiry.
Speak to a Fun Expert today to discuss the bespoke upgrade options available from additional equipment, branding, prizes, props and theming. As we own all our own equipment we have the flexibility to adapt equipment to suit your requirements.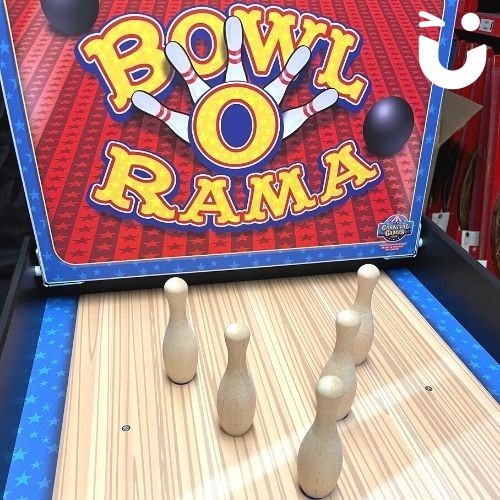 Bowl O'Rama has been added to your Event Quote.
Close