Bounce A Ball
Step right up, it's time to take on a new, fantastically fun challenge! The Bounce A Ball Game Hire is taking fun events by storm, thanks to it's addictive game play, competitive fun and stunning presence!
This addictive game allows two challengers to step up to the game and compete with one another, to be the first to light up their board! 
With a 'bounce' lane each, players must use their balls to bounce into one of the four target holes! Get a ball in the hole and they earn points which light up their lane. It isn't just a game of speed as you'll need some skill to bounce your balls in the right spot to get it in the hole - the harder the target to hit, the further your lane lights up!
Be sure to keep an eye on your competitors lane, you don't want them to beat you to the finish!
A seriously fun and addictive piece of entertainment, the Bounce A Ball Hire has been taking events by storm, not only because of how Fun it is, but because of it's look - this is a stunningly fun piece of entertainment to look at and really does attract the attention of guests. The gameplay then keeps them hooked!
Key Features of the Bounce A Ball Hire:
Two lanes allowing for two players...
Or two teams, so players rotate
Fast and Fun!
Addictive and competitive gameplay
Impressive, eye catching piece that will drawer the attention of guests!
What events are the Bounce A Ball Game Hire suitable for?
Promotional Events
Exhibitions
Employee Engagement
University Events
Corporate Events
Team Building
Family Fun
Equipment included with Bounce A Ball Game Hire:
Bounce A Ball Game
2 sets of balls for each player
Interactive scoring
Equipment Size: 1.2m Wide x 1.2m deep x 2.5m high
Operational Area Required: 1.5m wide x 2.2m deep x 2.5m High
Access Requirements: Please note that a width of approximately 0.7m is required when moving the equipment through doorways and corridors. If you feel that access may be an issue, such as stairways or lift access, uneven surfaces, obstructions or perhaps long distances then please mention this in your enquiry.
Speak to a Fun Expert today to discuss the bespoke upgrade options available from additional equipment, branding, prizes, props and theming. As we own all our own equipment we have the flexibility to adapt equipment to suit your requirements.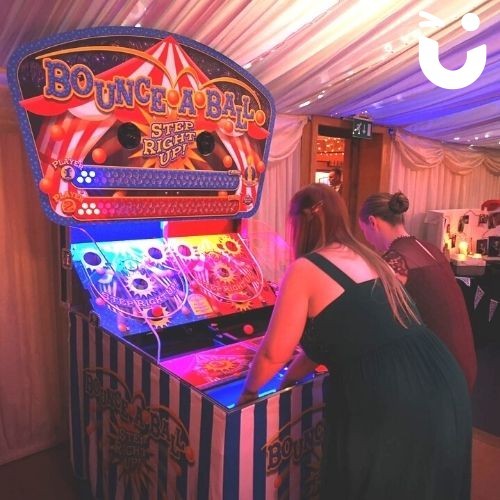 Bounce A Ball has been added to your Event Quote.
Close