Your Experts in Fun - for events, for the workplace and more!
---
When it comes to introducing Fun into your plans, whether it be for an upcoming event or within your workplace, we're here to help make your life easier. From team-building activities to exhibitions, family fun days to Fun At Work within your offices, and so much more - you can find all of your entertainment needs right here.
Who are The Fun Experts
We are The Fun Experts by name...and The Fun Experts by nature. 
When it comes to your events we specialise in providing you with a package that is one of a kind. This means you can count on a bespoke solution, designed to provide you and your guests with an amazing experience they won't forget.
Ever since The Fun Expert Journey started back in 2003 - when we formerly known as Sunshine Events - we have provided well in excess of 13,000 events, with amazing feedback from each and every client that has gone toward a 5 star service!
The Fun Experts is the one-stop-shop for you when it comes to your event. We've compiled just a few examples of the events and bespoke packages we can provide for you and include how you can begin a journey when introducing Fun At Work within your workplace. 
Family Fun Days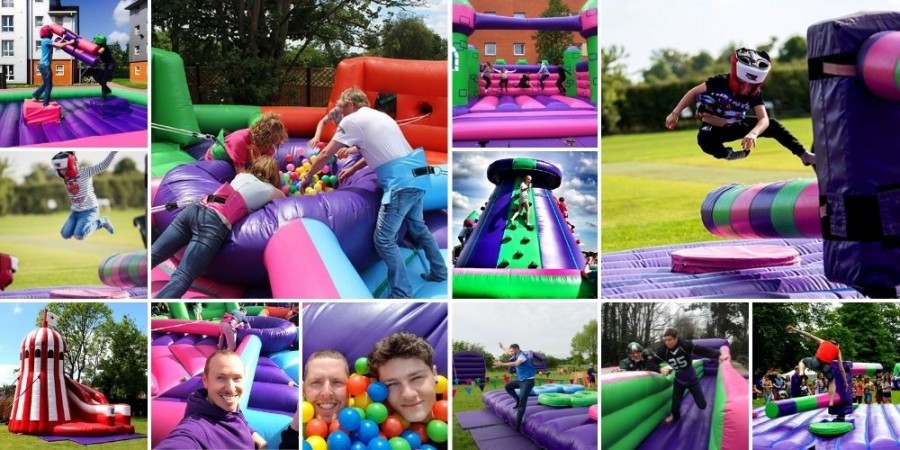 With a calendar year packed with huge events that include the Queen's Jubilee (4 days of Fun!) and sporting events including the World Cup, you're not far from a reason to hold a Family Fun Day - the summer season alone is reason enough!
From community events to summer fetes, no two Family Fun Days are ever the same! The Fun Experts have helped to design bespoke event packages for our clients that range from less than 500 guests to over 8,000, having worked with companies that include Google, Facebook, Amazon to name but a few.
The Fun Experts have everything you could possibly need to make your Fun day truly one of a kind. We have a variety of inflatable assault course hire, engaging fairground stalls, fun foods, and so much more. 
Exhibitions/Promotion
When the pandemic first hit in 2020, the events industry like so many suffered, and a huge element of that was Exhibitions and Promotional Events. 2022 the calendar is packed with hundreds of exhibitions taking place across the country.
So how do you stand out from the crowd?
Whether promoting a product or launching a brand, you will want to be turning potential clients' heads and have them all queuing at your stand. With an industry worth more than £11 billion, we know exactly how to turn a great event into an excellent one.
The Fun Experts have over a decade of experience with bespoke branding of our products. Equipment such as the Cash Grabber or Batakcan be branded exactly to your needs to ensure you capture the attention of the attendees. Create a positive first impression and wow your audience. 
Team Building

"A healthy workplace is a Happy workplace" and nobody understands that better than The Fun Experts. Giving back to your employees can be the greatest investment you make as a business and we have exactly what you need.
Are you hosting a Team Building event that focuses on building relationships and camaraderie among employees? Our Team Building events packages are just what you need.
Universities, Schools and Colleges

Throughout the year, The Fun Experts travel the UK bringing the entertainment, glamour, and memories to all types of university events. This can be Graduations, Freshers, Open Days, or even Socials.
Having visited schools and Universities including Brunel, Wolverhampton, Liverpool, Manchester, Edinburgh and so many more, we're looking forward to celebrating 2022 with you and your students as you welcome new students in later in the year, congratulate them on graduation, and support them throughout the year with a variety of events where Fun is key. 
Christmas

Christmas is definitely one of, if not the greatest, time of the year. And we have everything you could possibly imagine to turn your event into an unforgettable winter wonderland!
From Santa's Christmas Grottos and Giant Christmas Snow Globes to Christmas Funfairs Packages and Reindeer Rodeos: all of our magical Christmas equipment needs to be seen to be believed.
Fun At Work

Fun At Work is part of The Fun Experts family and we're on a mission to help the nation have more fun at work. Following an 'interesting' couple of years in which many have worked from home and returned to the office, it's time to reignite the thoughts you've had around truly investing in your people.
If you want to build a culture that the best people want to work in; if you're open to new ways of thinking; if you're looking for the way to engage your team more and improve productivity and efficiency, then Fun At Work is the answer for you.
You can find more detail right here, where you can begin your journey and learn more about a movement that has seen the likes of BUPA, Regatta and others truly feel the benefits.
But Don't Just Take our Word for It
Along The Fun Expert journey, we continue to work with amazing brands known throughout the UK and even the world, such as Google, Amazon, Virgin Media, Rolls Royce, Vodafone and Facebook - just to name a few - and you can see our 5 star LIVE feedback right here.
The Fun Experts provide the best equipment for all kinds of events that are made bespoke to you, so be sure to
get in touch
by giving us a call today on 0800 086 2380.