Travelling All 4 Corners of The UK
---
Being Fun Experts means that we get the opportunity to travel all over the United Kingdom from the North to the South of England, to Scotland, Wales and even the odd trip to Ireland. With over 20 years of experience in the event industry, we've visited our fair share of locations and had the chance to supply fun to some of the biggest and best event venues the UK has to offer. Just name the place and The Fun Experts have probably been there!
---
England
Home of The Fun Experts and where some of our craziest events have taken place... including the time our Cash Grabber headed on tour around different Selfridge's locations with Charlotte Tilbury! We've entertained some pretty big companies in the capital including Nando's, the NHS, McDonald's and M&S and even closer to home up in Manchester, we've provided fun for the likes of Lloyds Bank, cosmetics brand L'oreal and the University of Manchester. England also boasts some great event venues that we've had the pleasure of visiting (some many times over the years) including the NEC in Birmingham, Manchester Central and the top of the O2 arena to name a few!

Wales 
A country that's smaller in size but definitely not short of fun. Every year, our events team head over the Welsh border in vans filled with fun ready to entertain at all sorts of events from Fun Days to Corporate Events to Student Fairs for our repeat customers at Cardiff Metropolitan University, Golden Sands Holiday Park and Cardiff Motorpoint Arena. One of the most notable events there to date has to be our Santa's Grotto's December stint in a Nisa store in Wales!
Scotland
To the rest of the UK, Scotland is known for it's amazing history and beautiful scenery but amongst The Fun Experts, it's known for the fantastic events we've helped to put on there! We've travelled Scotland from bottom to top on four occasions now, providing fun for the University of Aberdeen, as well as one of our repeat customers who's Dunfermline branch we're visiting as part of our 2023 summer tour and also happen to be a company you'll probably know well.

Dublin
Speaking of that certain well known company, last year's summer tour saw us crossing the pond and stopping off in Dublin to attend a Family Fun Day. This might be the first time us Fun Experts have headed overseas but will it be the last? Who knows what The Fun Experts have in store over the next few years...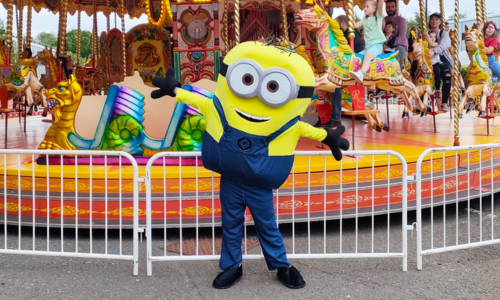 It's a real privilege to be able to see so much of the United Kingdom and one of the things that really sells the Fun Expert role to our team. If you'd like us to come and visit you wherever you may be in the country, Get In Touch and our fantastic sales team will be more than happy to add you to our travel list and plan a fun-filled event for you or your company.