Our 5-Star Piece of Festive Fun
---
Today you're being introduced to one of our most popular pieces of Christmas kit come the festive season (which believe it or not has already started!) ... the Giant Snow Globe! Year in year out, the Snow Globe travels up and down the country, immersing you in a winter wonderland at a huge variety of events, even being approved by the Daily Mail! 
Back in 2018, our Human Snow Globe received a snow rating of 5 stars after journalist, Antonia Hoyle, hired the magical attraction for the purpose of reviewing a number of snow machines. Antonia's article stated, 'business is, apparently, booming with reasons to book the snow globe' and the same can be said today, as we're only in October and the globe has already made its 2022 debut!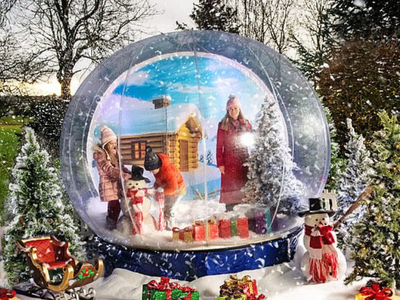 Why hire the Giant Snow Globe?
The magic of the Snow Globe comes from the fact that you can experience the wonders of Lapland from the comfort of your own home or office. After being set up by two Fun Experts, the globe is ready for you to step inside of and be whisked away to a magical snowy landscape, as the globe comes complete with a stunning backdrop, snow covered trees, a prop snowman completed with his carrot nose and a selection of twinkly prop presents. The Giant Christmas Snow Globe is primarily a photo opportunity, you might choose to take your mobile phone into the globe for the ultimate selfie or have your friends take them from outside as you enjoy a snowball fight with the globe's biodegradable fluffy snowballs and flakes. But aside from this, it's also a mesmerising and incredibly festive opportunity to experience one of the UK's only versions of a white Christmas!

What events is the Giant Christmas Snow Globe suitable for?
Being a major source of Christmas memories and magic, the Human Snow Globe is perfect for capturing the spirit of pretty much any festive event. Over the years, the globe has been a huge hit at Christmas parties, fascinating and producing lasting memories for those young and old, after all everyone loves a snowball fight (except maybe Scrooge!). As well as just being good festive fun, the Snow Globe is also ideal for any winter themed or shopping centre Promotions with its customisable backdrop. At The Fun Experts we encourage all of our clients to stand out from the crowd and the Giant Snow Globe will ensure you do just that.
---
Holding a Christmas party or promotional event? Then we've got the festive attraction for you! Simply add the Christmas Giant Snow Globe to your Fun Basket today to get your personalised quote and our fantastic Fun Experts will be in touch soon.