Basketball Challenge
Fancy yourself a Jordan or a Shaq, or maybe you're one and your colleague is the other? Well let's test that theory with our fantastic Basketball Shoot Out Challenge. For you competitive types, this is the perfect opportunity to, once and for all, determine which of you is the best... well, at shooting hoops at least.
Using the digital display, two players can compete to score the highest number of baskets as the clock counts down. With three balls in each lane, it isn't as simple as you may think as the adrenaline kicks in and the nerves get the better of you...surely you can't miss that many times.
What events is the Basketball Challenge available for:
The Basketball Challenge is the perfect option for introducing engagement and some healthy competition amongst colleagues. Your office environment is a great setting but we've also made the Basketball Challenge available for a variety of events such as:
Team Building Events
Corporate Events
Fun Days
University Events
Exhibitions
Promotional Events
When bringing the Basketball Challenge each of these events, the fun and competitive element are sure to attract and entertain your guests for hours.
Key Features of the Basketball Challenge:
Up to 2 players can compete / play
Takes up minimal space, perfect for an office setting
Digital display tracks the score and counts down
The best feature of all though is that it provides simple fun. Guests will laugh as they go up against each other to beat the high score and come away the true Basketball star!
Equipment Size: 1.12m wide x 2.05m deep x 2.05m high
Operational Area Required: 2.12m wide x 3.05m deep x 2.05m high
Recommended Age/Height of Users: Ages 4 and over
Speak to a Fun Expert today to discuss the bespoke upgrade options available from additional equipment, branding, prizes, props and theming. As we own all our own equipment we have the flexibility to adapt equipment to suit your requirements.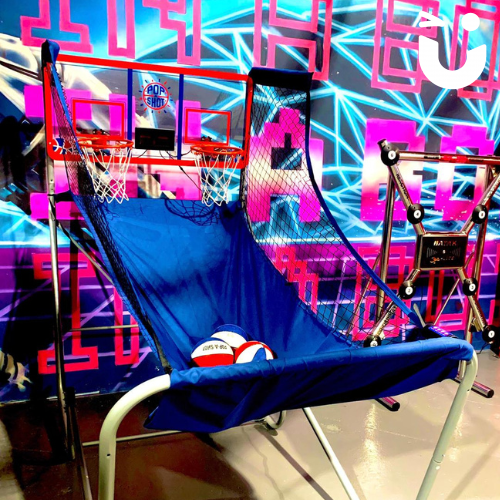 Basketball Challenge has been added to your Event Quote.
Close