Prize Crane Grabber
Is it a fix, are the prizes weighted or is it purely a game of skill? Debunk the theories for yourself when you hire our Crane Grabber for your next exhibition, the crane grabber will have crowds flocking to your stand in attempts to win a prize. Fill it with business incentives such as free gifts or even coupons that can be used on your site and you've got yourself the perfect piece of promotional kit!
Another throwback to days spent in arcades, your guests will have to manoeuvre the crane and pick up a prize, keeping their fingers crossed that the claw doesn't drop it before it makes it down the chute. 
Key Features of the Prize Crane Grabber:
Two modes, 'Free Play' or play restricted to guests without tokens
Can be set to 'prize every time' or ratio programmers that allow the distribution of prizes to match your promotional objectives
Number of branding options available when you speak to our Fun Experts
What events are the Prize Crane Grabber suitable for?
Exhibitions
Promotional Events
Corporate Events
Shopping Centre Promotions
Speak to a Fun Expert today to discuss the bespoke upgrade options available from additional equipment, branding, prizes, props and theming. As we own all our own equipment we have the flexibility to adapt equipment to suit your requirements.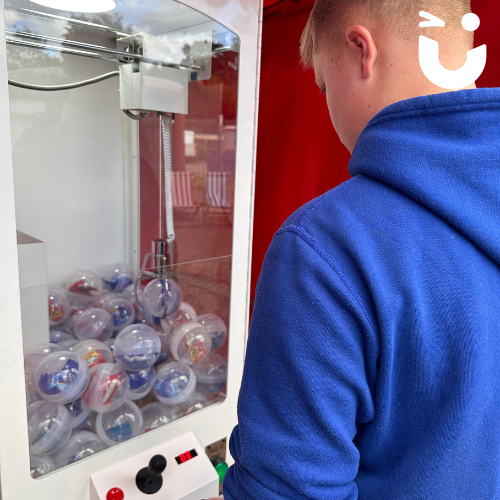 Prize Crane Grabber has been added to your Event Quote.
Close