Bungee Trampolines
Bounce higher than you ever have before with the Bungee Trampolines! Get strapped in to the bungee harness and you'll be able to reach for the sky and feel the thrill, all the while knowing you'll be coming back down safely to the trampoline bed.
Perfect entertainment for kids, you'll not see an end to the queue as it's a guaranteed crowd pleaser at events.
Available to hire for your event, this classic funfair attraction is perfect as it allows four people to take part at any one time, meaning the wait isn't long for the fun to begin.
Equipment Size: 7.4m wide x 7.4m deep
Power: Generator Provided
Number Of Users: up to 4 participants at one time
Access Requirements: For access, please note that this piece of fun entertainment is transported by van and trailer. Installation time is 1 & 1/2 hours. Removal is 1 hour.
Speak to a Fun Expert today to discuss the bespoke upgrade options available from additional equipment, branding, prizes, props and theming. As we own all our own equipment we have the flexibility to adapt equipment to suit your requirements.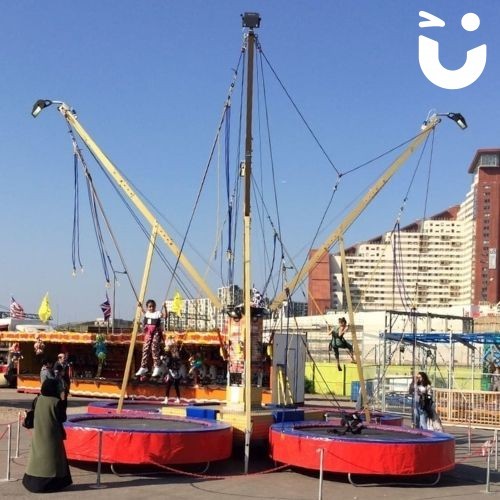 Bungee Trampolines has been added to your Event Quote.
Close