Our April Fools Backfires!
---
It started out as a harmless April Fool's prank about the creation of the UK's very first Willy Wonka-esque Candy Floss but things have snowballed out of control for us here at Sunshine Events.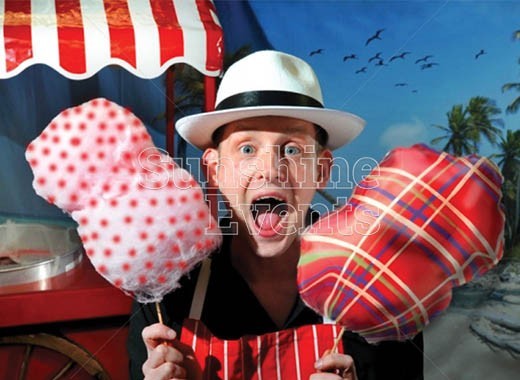 We  announced earlier this month, on 1st April, that we'd launched a brand new, sugar coated line of cotton candy that shared weird and wonderful traits with Willy Wonka and his fantastical Chocolate Factory.
The delicious treats had been specially made with a state-of-the-art candy machine to produce funky colours and designs including Tartan, Leopard, Lace, Polka Dot and much more. 
News of the crazy candy floss went so viral that we've been inundated with a high volume of calls and enquiries from customers wanting to book the hot new product to sweeten their event!
The April Fool proved so popular that an American firm, the largest manufacturer of packaged cotton candy in the US, contacted us to enquire about exclusive distribution rights for the United States market.
James Sandwell, Director of Fun, said: 
"We just wanted to put a few smiles on our customers' faces and have a bit of fun because after all, that's what we're all about. We never imagined in our wildest dreams that so many people would believe it was genuinely real or even try to book them for that matter.
"It's incredible the amount of customers who fell for our prank and many are now put out that we can't provide this decorative fun food. It's been the best April Fool we've done in years and better still, customers have actually booked other products with us so all in all it's been a massive success!"
On the day the announcement was made, our website received a 72% increase in traffic levels and a 48% increase in enquiries, year on year comparison. 
In fact, we still have enquiries coming in two weeks later and it seems Lancashire businesses prefer 'Tartan Candy Floss' as this has been the most popular to date.
James added: 
"Due to the very high demand and popularity, we are now actually looking at trying to make Patterned Candy Floss a reality, so the April Fool has backfired on us in a way."
Serve some excitement at your event this year with our Candy Floss on a Traditional Cart Hire; they look fantastic and once your guests realise what's being served from the cart, the real fun begins.