Deckchair Madness: Your guide to the summer essential!
---
Hundreds and thousands of Brits have done what any sane person would do over the last few weeks...they've hit the beach! With the weather breaking records and the sun continuing to shine, there is no better excuse to bask in the rays of the glorious sunshine. And what better way to relax than in a deckchair!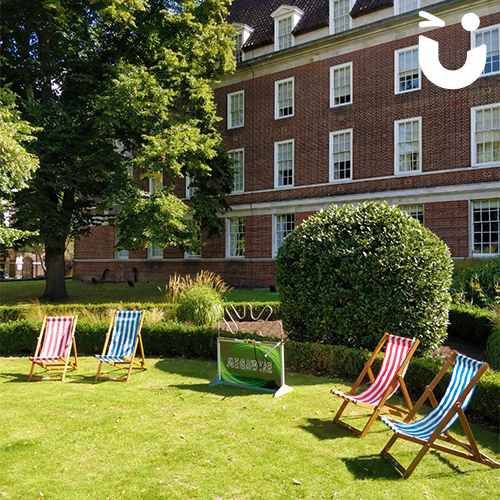 The Fun Experts® have a collection of 500 traditional red & white and blue & white striped deckchairs. Setting a fantastic scene when all lined up for your guests, the deckchairs really do make an impact at events. There's even the Giant Deckchairs, perfect for a snap with the family and friends!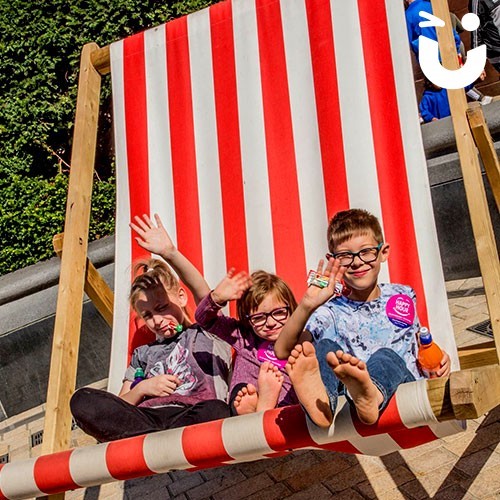 But what happens when you hire a deck chair; how do you actually put it up and how do you get into it gracefully? 
It's not rocket science to be able to put up a deckchair but for some, it can seem quite a tricky process and if you aren't careful, you can get your fingers trapped. If you have never put a deckchair up before, it can be bewildering but practice makes perfect.
So here is an the Fun Expert guide on how to put up a deckchair with zero-fuss and get into it smoothly:
Point both folding arms upwards and stand the folded chair vertically. 
Next, rotate the longer arm away from the frame until it can no longer go any further.
Then, repeat step 2 with the shorter arm and fix the bar in place in one of the pivots/notches of the longer arm. 
Place the upright chair on the ground and adjust the seating accordingly. Make sure it is stable.
Lay your feet firmly on the ground and slowly sit down, holding onto the arms for support. If you're wearing a dress or a skirt, keep your feet together when you sit down and try sitting down on a side angle.
And relax! Sit back and enjoy your event in style. However, be careful not to lean back too much or you could end up tumbling backwards. 
Remember to always hold onto the arms for support when standing up, or you could end up on your bottom. Alternatively, just ask someone to give you a hand!
Don't shy away from these fantastic alternative furniture items; they always make people smile and are a fantastic talking point for your event!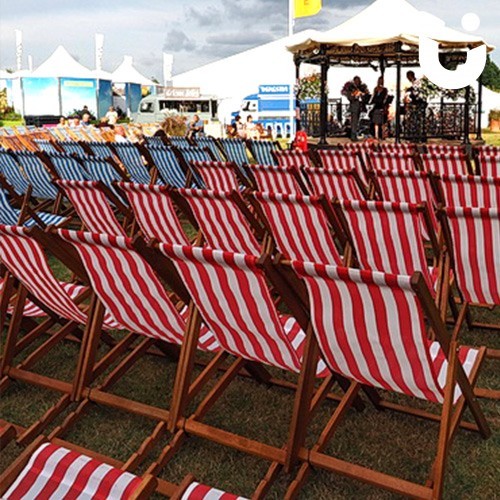 Interested in hiring a deckchair for your event? Get in touch with the Fun Experts® today by calling the number above. And if you need some inspiration, please check out our Beach Theme Gallery for more deck chair madness! 
Here are some fab, fun facts on the history of deck chairs:
Mr John Thomas Moore was the very first person that took out a patent for the adjustable folding chair back in 1886. 
The British businessman manufactured deck chairs in Macclesfield and even supplied them to the infamous Titanic, of which only six survived the sinking. One was even sold at auction for £35,000 back in 2001.  
However, the comfy pieces of furniture can also be traced as far back as the ancient Egyptians. 
(Image courtesy of The Blackpool Gazette)