WEDDING ENTERTAINMENT AT THE INN AT WHITEWELL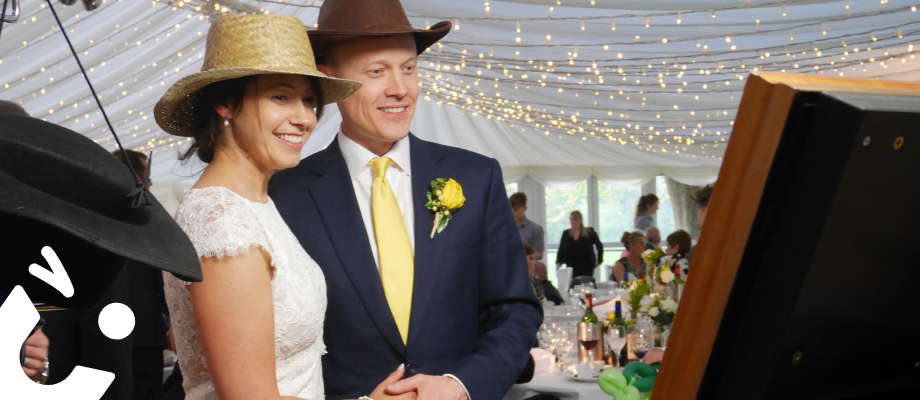 ---
The Brief
Your wedding is the one of the most important days in your life and when we are honoured with helping to plan that very special day, we want to make sure that we add the fun in the most fantabulous way we can. Using our expert knowledge and years of experience, we are able to recommend you a huge selection of equipment to suit any location. With bespoke packages avaliable, we promise to help you create memories that will last a lifetime. When Jane Regan approached us for her spring wedding, she wanted to capture her special moments in a unique way. Jane's wedding was set to take place at the tranquil countryside location - The Inn At Whitewell in Lancashire - and the bride to be wanted to add that extra bit of fun to her day, whilst still matching her elegant setting.
Our Response
Excited to be involved in Jane's plans and understanding her wishes, our Fun Experts recommended a standout feature that would sure to be the talk of the day (aside from Jane's beautiful dress, of course).
We recommended to Jane our Magic Selfie Mirror Hire, sure to attract the eye of any guest and entertain as they pose with friends and family for photos. Mirror mirror on the wall; who is the fairest of them all? (Obviously the bride!)
Adding our own little sunshine twist, we provided a fun(ky) selection of fun props helping to bring the laughter and to create memories filled with smiles. 

The Results 
Our fun equipment was a huge success and we couldn't have been happier that Jane trusted us to bring the fun to her treasured day;
"The Fun Experts provided the amazing selfie mirror for our wedding and it was such a HUGE success! I particularly liked the "vintage" look of the mirror which didn't at all look out of place in the marquee setting. Our guests (young and old!) loved dressing up and striking a pose at the mirror, plus they then got the photograph to take home with them as a memento! Cannot recommend The Fun Experts and the Magic Selfie Mirror highly enough as a fun addition to your special day!"  
Jane Regan
From all of the Fun Experts here at The Fun Experts, we would like to once again congratulate the bride and groom, Jane and Barry. We wish you a lifetime of love and happiness (and lots of laughter too!)