Top Doc
Remember playing the good ol' Classic Operation as a child (oh the Simple times) how about taking it to a whole new level? Say, make it 10x bigger which automatically increases the pressure 10x.
Do you remember the aim of the game?  Use the metal wand and now it's amazing electromagnetism to lift the (now life-sized) body parts from your patient. BUT DON'T FORGET! If you touch the sides whilst removing any body part the current will cut and the piece will drop, as well as being abruptly met by a large buzz/klaxon sound and sacrifice a point for your medical blunder.
Perfect for indoor events as well as exhibitions and promotional events, Top Doc operation draws in the crowds and becomes just as nerve-wracking watching as it is being the one conducting the surgery.
What events are the Top Doc suitable for?
Exhibitions
Corporate Events
Evening Functions
Christmas Parties
Shopping Centre Promotions
University Events
...and many more!
Key Features of the Top Doc
Approximately 3ft 10" x 1ft10"
Interchangeable skirt for bespoke branding
Suitable for all ages
Comes in a portable flight case
Requires a 240v electricity supply
Speak to a Fun Expert today to discuss the bespoke upgrade options available from additional equipment, branding, prizes, props and theming. As we own all our own equipment we have the flexibility to adapt equipment to suit your requirements.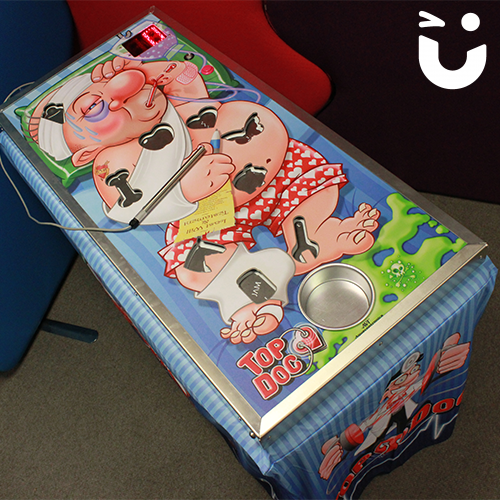 Top Doc has been added to your Event Quote.
Close