Fun Day Example Package - 500 Guests +
Fun Day Example Package - 500 Guests +
How do you entertain hundreds, thousands even, of guests attending your family funday. That's where the Fun Experts come in; since 2003 we have inspired and delivered amazing family fun days for communities or businesses across the nation.
This suggested package is an eye opening introduction as to what works perfectly for a fun day event that will see a guest list of over 500. Of course you're not restricted to the products that are suggested here in the What's Included tab but in sharing our experience, we can inspire you with some brilliant ideas that have been tried and tested. Using this as a starting point for your event, you can of course shop through our products - of which we own every single item you see on our website - to create a bespoke package.
This suggested fun day package shows you how you can entertain all your guests with a variety of equipment that is suitable for all. Featuring classic products that include Inflatable Slides and Assault Courses; crowd pleasing Funfair Side Stalls with everyone's favourite carnival games such as Coconut Shy and Tin Can Alley; a place for guests to rest their legs in traditional Deckchairs; and Face Painters, because let's be honest, a fun day isn't fun without a bit of face paint!
This may be the perfect package for your event, or maybe a tweak here and a tweak there but either way, speak to the Fun Experts today and we can ensure you a stress free journey in organising the perfect fun day. One that will see both yourself and your guests come away with celebrating a fantastic day and one we're sure you'll want to return to again and again.
When holding an event of this size, what sort of fun products could you expect to see in your package. Better question; as the Fun Experts, what do we know will work for your Fun Day event. For our example package for an event expecting a footfall of more than 500 guests, the following list of products works a treat...
Wrecking Ball
Bungee Run
Assault Course Inflatable - with 2 additional sections
Helter Skelter Inflatable Slide
Children's Slide
Inflatable Playzone / Children's Activity Zone
5 x Funfair Side Stalls - there are a fair few to choose from!
Inflatable Basketball Challenge
Inflatable Penalty Shoot Out
Bouncy Castle
Face Painter
Circus Skills Workshop
Fun Food Cart (Candy Floss or Popcorn)
100 x Deckchairs
Giant Deckchair
Test of Strength
Crazy Golf
Giant Games Area
And the whole day brought together with your Event Host / Compere
This is the perfect example of what is sure to excite and entertain your guests. With a collection of inflatables, fun foods, funfair carnival stalls and giant games, you're covering all the bases for your guests and guaranteeing a fantastic experience for all!
Power: Most products require access to power but Generator hire is also available from the Fun Experts
Access Requirements: With a footfall of more than 500 guests, we're presuming you have quite a big area to fill - Great! This might likely translate as a huge field - better still. But any questions you have about space / size, feel free to ask. But you can be sure that our team of Fun Experts will go through every logistical detail of your event. From your initial enquiry / booking, right through to our dedicated Logistics department, we will ensure we dot the i's and cross the t's.
Speak to a Fun Expert today to discuss the bespoke upgrade options available from additional equipment, branding, prizes, props and theming. As we own all our own equipment we have the flexibility to adapt equipment to suit your requirements.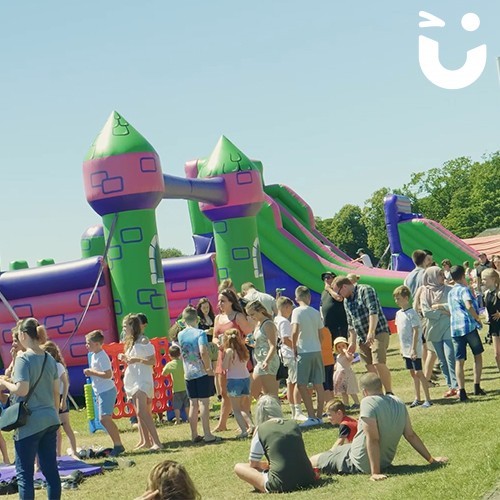 Fun Day Example Package - 500 Guests + has been added to your Event Quote.
Close