Generator Hire
For the majority of equipment that we hire, we require power to either inflate it, light it or move it.  Every event is different and sometimes so different that it may take place where power is not available, whether it be a large field in the middle of nowhere or perhaps too far away from a building.
As such we can provide generator power for any of our equipment that needs it.  All our generators run on diesel fuel and can provide enough power for the full duration of your event and depending on how many items you need to power, we can provide multiple generators or one big one to do the whole event.  We even have a "silenced" generator for events where a quieter option is required.
Please note that we can only supply generators to power the equipment that we supply for events so these cannot be hired singly or to power externally provided equipment. Generators can only be used outdoors.
What events are the Generator Hire suitable for?
Power is usually one of the last things you think of when organising an event, but if you're lacking in power from the National Grid, then that's where the generator option comes in!
Fun Days
Outdoor events
University Events
Sports Events
Team Building
Promotional Events
Charity Events
Key Features of the Generator Hire:
To be used to power The Fun Experts' equipment
Diesel powered
Enough fuel to last for your entire event
Fully tested and insured
"Silenced" generator available
The Fun Experts are able to provide generator options for all kinds of event, so make sure your event isn't left in the dark!
Equipment Included in the Generator Hire: 1 Diesel Generator Fuel to last your entire event Safety fencing
---
Access Requirements: access would need to be discussed with the Fun Experts when enquiring.
Speak to a Fun Expert today to discuss the bespoke upgrade options available from additional equipment, branding, prizes, props and theming. As we own all our own equipment we have the flexibility to adapt equipment to suit your requirements.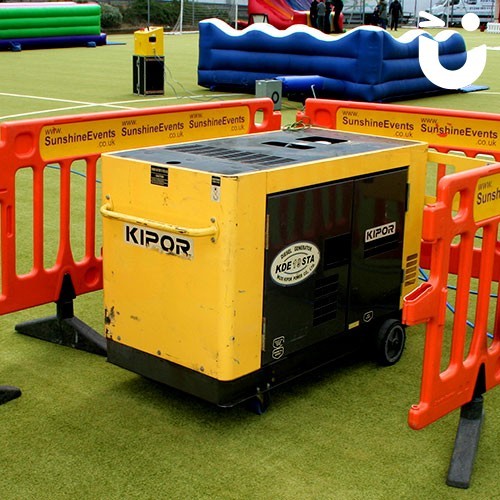 Generator Hire has been added to your Event Quote.
Close