Fun Day Example Package - Up to 100 Guests
Fun Day Example Package - Up to 100 Guests
You're on the right track - judging by the fact you've landed here, you perhaps already know what kind of footfall you're expecting at your event, your Fun Day guest list is set.
So allow us to show you a perfect example package as to what works for this size of Fun Day event. As you will see in the What's Included, you can expect a variety of equipment which has been carefully selected to entertain both young and old with classics including the Bouncy Castle, sweet treats by way of Candy Floss or sweet hot Popcorn and everyone's 9 hole favourite, Crazy Golf to name but a few.
Since 2003, the Fun Experts have been inspiring clients across the nation and delivering the answers to your needs. Having supplied our brand of entertainment to a variety of sizes of family fun day events, from guests of 100 up to 5,000 and more, we can support you every step of the way ensuring a stress-free journey. It's just as important to us that you enjoy the event as much as your guests.
This package for guests of up to 100 is just an example of what works perfectly well in keeping everyone entertained and guaranteeing fantastic feedback. But better still, as we own every piece of equipment you see across this site, we can develop your package so it is bespoke to your needs - it's what we're great at, working with your for the best result possible! Inside, outside, up North or down South - we will provide you with the best family fun day you've ever had!
So feel free to use this example as your starting point and speak to our team of Fun Experts now, or shop around and fill your basket with your wish list. 
When holding an event of this size, what sort of fun products could you expect to see in your package. Better question; as the Fun Experts, what do we know will work for your Fun Day event. For our example package for an event expecting a footfall of more up to 100 guests, the following list of products works a treat...
Inflatable Slide
Bouncy Castle
Pole Joust
Crazy Golf
Fun Food Cart (Candy Floss or Popcorn)
Giant Games Area
This is the perfect example of what is sure to excite and entertain your guests. With a collection of inflatable, fun foods and giant games, you're covering all the bases for your guests, young and old!
Power: Most products require access to power but Generator hire is also available from the Fun Experts
Access Requirements: Whether taking place indoors or outside in the glorious sunshine, if you have any questions regarding access / space / size, feel free to ask. But you can be sure that our team of Fun Experts will go through every logistical detail of your event. From your initial enquiry / booking, right through to our dedicated Logistics department, we will ensure we dot the i's and cross the t's.
Speak to a Fun Expert today to discuss the bespoke upgrade options available from additional equipment, branding, prizes, props and theming. As we own all our own equipment we have the flexibility to adapt equipment to suit your requirements.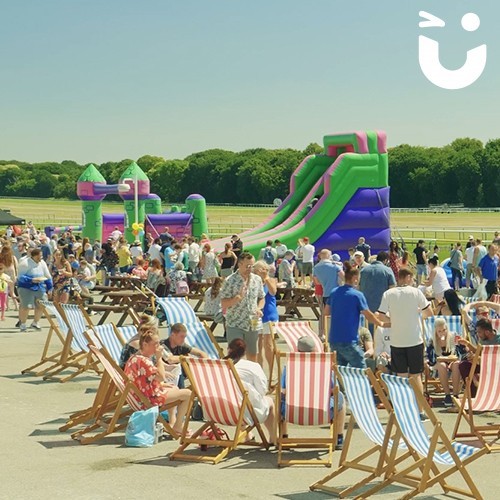 Fun Day Example Package - Up to 100 Guests has been added to your Event Quote.
Close