ATARI Pong Table Hire
Often referred to as THE first ever computer game (it's not by the way!), our ATARI Pong Table is the perfect addition to your event and brings a new level of excitement to retro gaming hire.
Nostalgia and modern day tech have brought this 70's classic to the forefront of fun, interactive gaming. Though it is thought of as a classic computer game, the mechanics behind this highly addictive and very attractive hire actually involves motors, magnets, rails and pulleys. The ball and paddles are controlled using a dial for each player at either end of the table, which are controlled by magnets underneath.
Two players can compete at any one time, as they take a seat on our specific Pong table, ATARI branded stools. We all know the aim of the game if you don't, how was it under that rock? The score is displayed for players using an led display and the table itself lights up to add ambience to the excitement.
This truly is a slick piece of design which is perfect for events from Exhibitions to Team Building, Corporate Evening Events to University Events. There is no doubt that people will immediately want to be involved so they can be the first to play with this retro classic!
What events is the ATARI Pong Table suitable for?
Whether you were brought up in the 80's, a gaming geek or nostalgia lover, everyone will have heard of Pong. It's basic gameplay involving two 'paddles' at either side of the screen and a little white ball being batted from side to side. So simple but very effective and addictive! 
The Pong Table is perfect for a variety of events where they can get involved and interact with one another over a very competitive game. Pong is available to hire now for events such as:
Exhibitions
Corporate Events
Evening Functions
Christmas Parties
Shopping Centre Promotions
University Events
...and many more!
Key features of the Atari Pong Table:
Two players can compete at any one time - or you can compete against the inbuilt AI
Three speed modes to add to the challenge
Game play can last for minutes or more - up to 40-50 people per hour
Sound effects to add to the excitement
USB ports enable you to play your own music via the tables sound system
Perfect size for exhibition spaces
A definite, crowd-pleasing piece of nostalgia
The ATARI Pong Table is ready to bring people together at your event, perfect for any sized venue and sure to delight your guests for hours as people compete and watch on. 
Whats included with the ATARI Pong Table Hire:
1 x ATARI Pong Table
2 x Atari Pong Stools
Power Leads
1 x fully trained Fun Expert
---
Equipment Size: 1.2m wide x 0.8m deep x 0.5m high
Operational Area Required: 2.2m wide x 0.8m deep x 2m high
Power: access to one 13amp standard socket required
Staff: 1 x Fun Expert required
Number Of Users: 2
Recommended Age/Height of Users: 5 and above
Access Requirements: please note that a width of 0.85m is required when moving the equipment through doorways and corridors. If you feel that access may be an issue, such as stairways or lift access, uneven surfaces, obstructions or perhaps long distances then please mention this in your enquiry.
Speak to a Fun Expert today to discuss the bespoke upgrade options available from additional equipment, branding, prizes, props and theming. As we own all our own equipment we have the flexibility to adapt equipment to suit your requirements.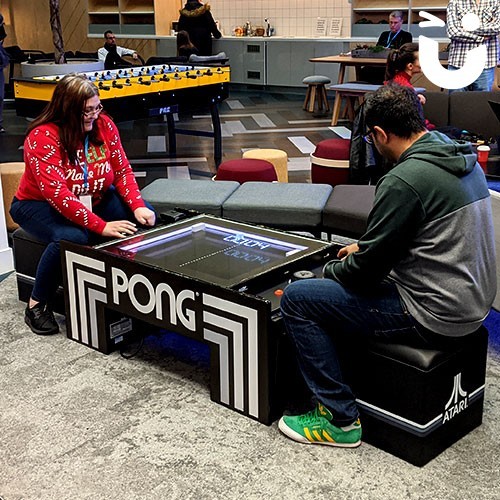 ATARI Pong Table Hire has been added to your Event Quote.
Close