Tie the Knot for Team Building
Tie the Knot for Team Building
Sunshine Events are famous for their Team Building events and one of the trickiest activities that we offer is Tie The Knot. It might appear simple - we give you a length of rope and then you have to tie the knots that you're presented with.  Only it's not that simple: there are certain restrictions in place to make things a bit trickier.
First up: the ropes - we could give you all kinds of ropes of all kinds of lengths and thickness.  Big thick ropes make it even harder to make those elusive knots.  Or you might not be able to let go of the ends of the ropes whilst tying the knot, meaning you'll have to twist and turn and step into the loops of rope just to get the rope tied in the right way.
It's a challenge in both communication and dexterity as we give you harder and harder knots to tie - but one thing is certain, you will learn a new skill that will translate directly to your office once you return to work on Monday.
What events are the Tie The Knot Hire suitable for?
Team Building events of all sizes will benefit greatly from the Tie The Knot Hire - whether it's out ion the field or in the office.
Team Building Events
University Events
Sports Events
Promotional Events
Charity Events
Key Features of the Tie The Knot Hire:
Improves communication in your team
Learn something new
Can be used indoors or outdoors
The Fun Experts are Team Building Experts, so give us a call today to talk about your Team Building event and we'll turn it into something special.
Speak to a Fun Expert today to discuss the bespoke upgrade options available from additional equipment, branding, prizes, props and theming. As we own all our own equipment we have the flexibility to adapt equipment to suit your requirements.
The Fun Experts organised our company Team Building event. I will definitely be recommending them to other projects in our company.
Victoria Callow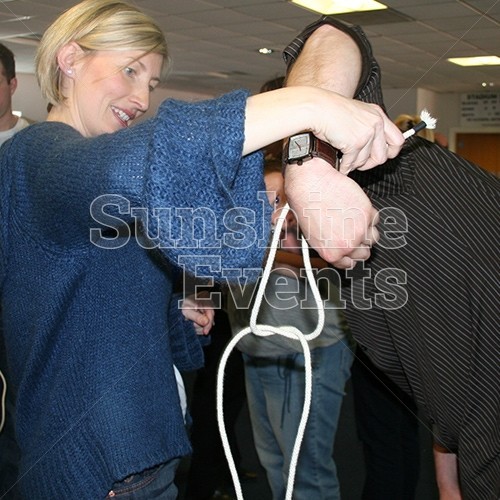 Tie the Knot for Team Building has been added to your Event Quote.
Close
Call the Fun Experts to discuss your event: